Return to Headlines
STEP students take fifth graders under their wing on flight simulator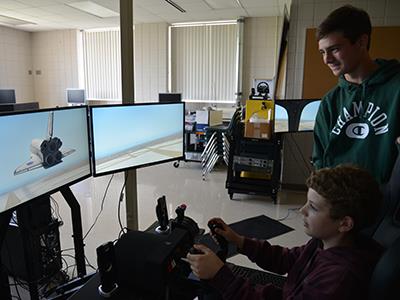 (06/08/2023) Students taking Aviation II at Anoka-Hennepin Secondary Technical Education Program (STEP) handed the yoke over to a group of fifth graders May 26, as students from the Nebula program at Eisenhower Elementary School flew a space shuttle on a simulator.
The Nebula students visited STEP to wrap their study of Mars Colonization. The students had the opportunity to fly a space shuttle simulator to provide a broader context of human space training, technology development, and the pursuit of expanding human presence beyond Earth.
The high school students taking the Aviation II course, which focuses on curriculum to help pass the private pilot knowledge test, worked one-on-one with the elementary students on the different controls within a cockpit and guided them through different flight and landing simulations. View photos of the experience Nebula students had at STEP.
"They did really well," said senior Grant Gustafson. "It just warms my heart to see people at that young of an age take an interest in aviation and I hope to see them pursue this into the later years of their life."
Senior Anela Drusko added, "I like teaching them. It's fun and it's surprising how well these kids are flying. I enjoyed telling them all about the parts and letting them fly, because flying is amazing."
Pete Groebner has been teaching aviation courses at STEP for 20 years and said nearly half of the students who take the Aviation II course end up pursuing a career in the field after high school. Both Gustafson and Drusko plan to attend flight school after graduation.
"The class has opened up a lot of opportunities for me," Drusko, a Blaine High School graduate, said. "I always liked aviation and I plan on being an airline pilot, so taking these classes have really helped me."
STEP offers two aviation courses and both can be used for college credit at Minnesota State University, Mankato. The other course is called Aviation Technology and is available for sophomore, junior and senior students to explore different jobs within aviation. Gustafson is a Champlin Park High School graduate and plans to attend MSU Mankato to utilize the credit transfer.
"The courses are really great," Gustafson said. "I can learn about flying and a lot of the resources are in the classroom. The simulators are top of the line and they have options for failures, weather and time of day. It's just everything you could want."
Watch the STEP students interact with the Nebula students on the flight simulators.