Return to Headlines
Unprecedented event: music departments from each high school perform together on Orchestra Hall stage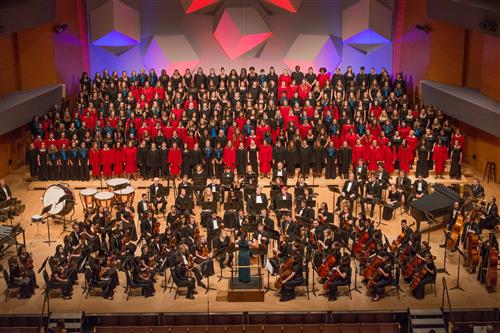 (10/16/19) For the first time ever, the music programs from all five of Anoka-Hennepin's traditional high schools came together for a performance Oct. 14. To make the unprecedented event even more special, the group performed at Minneapolis' historic Orchestra Hall.

In all, more than 700 students from the band, choir and orchestra programs at Andover, Anoka, Blaine, Champlin Park and Coon Rapids high schools, participated in the collaborative, one-time performance. See photos from the event.

"I felt the concert was a huge success," said Anoka High School music department leader Michelle Hayes. "Everybody performed at such a high level, and the students performed with such emotion and connection to the music."

The title of the event was "A Performance of Unity and Common Ground," centered around the idea of building community and acceptance, which was demonstrated, in part, Hayes said, by bringing together the music programs from all five of Anoka-Hennepin high schools into one performance.

"We performed to a sold-out crowd of over 1,500 people," Hayes said. "Absolutely everything we worked for over the past 14 months came together in an amazing, culminating performance. It's hard to describe what that feels like, but it is visceral and powerful. To work collectively with nearly 700 people for a common cause is the greatest feeling of all, but using music as a vehicle for positive change even exceeds that."

The performance wasn't a one-off teaching opportunity, either. Hayes said classroom discussion and cross-disciplinary dialogue with other departments occurred in the run-up to the event.

"I think the community would be proud to know that the students that live and go to school in their neighborhoods are talented performers, dedicated music students that have high achieving goals, and collectively possess a desire to discover the common ground in which we can all live peacefully together — through acceptance and kindness," Hayes said.

Beyond the music and lessons, Hayes said the staff at Orchestra Hall found the students to be respectful, talented, and easy to work with.

"The Orchestra Hall staff boasted that we made the day very easy and enjoyable for them," Hayes said. "They were astounded that we worked so efficiently — at one point moving 600 singers from stage to audience and back again, without a hiccup, all in under four minutes, while performing."

This event was made possible with financial help from the Anoka-Hennepin Educational Foundation (AHEF), which supported many of the costs of transporting and feeding the 700 students who participated, Hayes said.