Return to Headlines
Equity Achievement Plan aims to increase student achievement for all 
(10/11/2019) The mission statement for the Anoka-Hennepin School District calls for district schools to effectively educate each student for success. Increasing the academic achievement for all students while reducing and eliminating predictable and persistent achievement gaps between student groups is at the core of the recently implemented Anoka-Hennepin Equity Achievement Plan.
Background
In the spring of 2017, parents/guardians, students, community members, business leaders, cultural representatives and other stakeholders from Anoka-Hennepin and from throughout the region participated in a metro-wide discussion on educational equity called Reimagine Minnesota. Participants were tasked to envision a new model of education designed to more effectively ensure success for all students. Students from all Anoka-Hennepin high schools were active participants in the process.
The Reimagine Minnesota outcomes led to a desire to gather information and analyze district level data to identify areas of strength and opportunities for improvement within Anoka-Hennepin and the School Board added the creation of an Equity Achievement Plan as a strategic priority. The data collection phase was completed from April to September 2018. From there, a 25-member, cross-functional Student Services Advisory Committee identified key themes and opportunities for building capacity for educational equity.
Three priority domains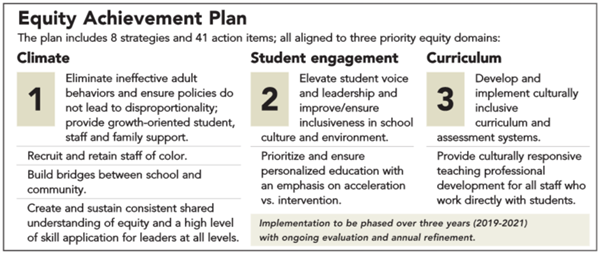 Over the next three school years Anoka-Hennepin will focus efforts on strategies and action steps aligned to three priority educational equity domains.
Climate: Ensure the school environment supports high achievement for all students and that a strong bridge between school and community supports student outcomes.
Student engagement: Elevate student voice and leadership and challenge all students academically to reach their optimal level of achievement.
Curriculum: Ensure curriculum, assessment and teacher professional development is culturally aware, inclusive and responsive.
Implementation will be phased over three years from 2019-2021 with ongoing evaluation and annual refinement. Ensuring each student is able to reach their highest aspirations and potential is the goal.
Review the entire plan at ahschools.us/equityachievementplan.