Return to Headlines
Musician Kat Perkins helps inspire Anoka-Hennepin's staff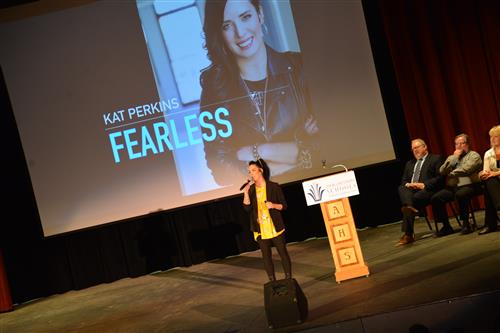 (08/29/19) Kat Perkins knows a lot about taking big chances, chasing one's dreams, and performing on a big stage. She also knows a little something about the hard work and dedication of those who work in education.
The daughter of a music teacher, Perkins grew up surrounded by music. With that as her foundation, her dream growing up was to become a professional singer. She was well on her way until vocal surgery derailed her plans and put her career on hiatus. And then she took a leap of faith in 2013 and auditioned for season six of NBC's "The Voice." She made it to the top five on the show, finishing fourth, and it launched her music career once again.
Perkins was the keynote speaker at Anoka-Hennepin's annual convocation on Aug. 29, which was produced and filmed at Anoka High School and streamed live by CCX Media to some 3,700 staff members gathered at schools and sites around the district. The event, which marked the unofficial start of the new school year for staff, was a high-energy affair that celebrated Anoka-Hennepin's excellence, highlighted organizational goals and achievement, and this year, included an inspiring message from Perkins. The district's back-to-school video was also premiered at the event, which includes the singer/songwriter, as well as a number of district students and staff.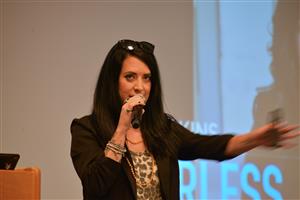 Perkins tied her life lessons learned to the world she grew up in as the daughter of an educator. She inspired staff with stories and song, but she also offered advice by sharing her three "Cs" to being fearless and overcoming fear and doubt: courage (be brave); conquer (dream it, do it); commend (let yourself be proud).
"Sometimes everything you could ever want is on the other side of fear," she said.
It wasn't the first time Perkins spoke to Anoka-Hennepin staff. She shared a similar message at the district's Aug. 5 leadership workshop, which is an annual event for district leaders where attendees learn about the School Board's strategic priorities for the upcoming year. See photos from convocation and the leadership workshop.

The 2019-20 school year begins Sept. 3. For back-to-school information, visit ahschools.us/bts.