Return to Headlines
Anoka-Hennepin schools honor past and present service members on Veterans Day
(11/11/19) On Nov. 8 or Nov. 11, all schools in the Anoka-Hennepin School District held Veterans Day events or educational opportunities aimed at learning about and honoring those who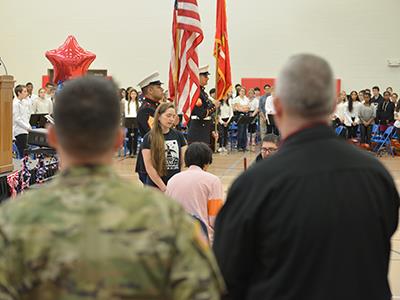 have served or who are serving in the military.

Every school in the district recognized Veterans Day in some meaningful way, from all-school assemblies to flag raising ceremonies to special lessons or veteran-speakers coming into classrooms to discuss the importance of the day.

See photos from schools and the celebrations they held to recognize Veterans Day.

Highlights

At Coon Rapids Middle School (CRMS), which held its celebration Friday, Nov. 8, an all-school assembly was arranged and directed by CRMS assistant principal Bob Cahow, an Army veteran. The event featured a flag ceremony with the Marine Color Guard from the Coon Rapids recruiting office, music from the eighth grade choir, orchestra and band, and an Ojibwe drum ceremony by the Bidewe Drum Group. Ramar Davis, a Sergeant in the St. Paul Police Department and retired First Sergeant of the Minnesota National Guard was the guest speaker. Over 60 veterans attended the event and were individually recognized for their service during the event.

At Andover Elementary School on Nov. 11, a procession of each military branch represented kicked-off the ceremony with students leading over 160 veterans into the gym. The colors were presented by fourth and fifth grade girl scouts and students heard from guest speaker, Mady Sakry, who is the daughter of kindergarten teacher Joel Sakry and a member of the Army National Guard. Students sang songs and read poems before all veterans were recognized by having their names read during the ceremony.

Oxbow Creek Elementary School in Brooklyn Park held a variety of events throughout the day, including a flag-raising ceremony in the morning. Throughout the afternoon, veteran family members of students joined for a free lunch.

Anoka High School held an all-school assembly on Nov. 11, with nearly 100 veterans in attendance. Major Michael Rose of the Minnesota National Guard provided the keynote remarks, and National Honors Society President Veda Karlsen-Heil and Student Council President Isabella Blanchard also making remarks. The AHS band, choir, and orchestra ensembles also performed.

History

Veterans Day is always observed officially on Nov 11, regardless of the day of the week on which it falls, and marks the anniversary of the day World War I formally ended — at the 11th hour of the 11th day of the 11th month of 1918.

The United States previously observed the day as Armistice Day, but the U.S. holiday was renamed Veterans Day in 1954, and is now the day our country honors persons who served in the United States Armed Forces.

The Anoka-Hennepin School District is honored to have hosted so many veterans and their families.