Return to Headlines
New 'Child Care Collaborative' program with state project award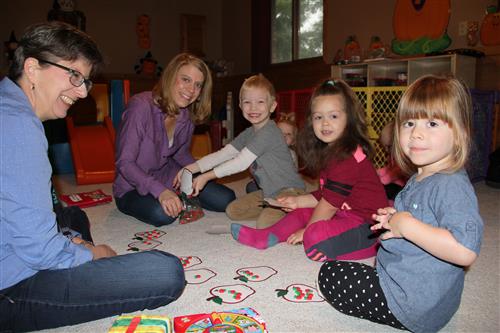 Anoka-Hennepin Community Education and area child care providers have partnered with a shared focus


"In Early Childhood Family Education (ECFE) classes, our parent educators remind families of it all the time; school readiness starts as early as when children are babies and toddlers," Diane Tich, Early Childhood Coordinator, said.

Tich has worked to reach out to area child care centers, and private in-home providers to pilot an award-winning program here in our district. The Anoka-Hennepin Schools Child Care Collaborative was inspired by a similar program in St. Paul, but modified for our community to support child care providers and families with children birth to age eight, year-round. The program will receive a project award from the Minnesota Community Education Association (MCEA) later this month.

"We heard that child care providers were feeling isolated," Tich explained. "They work long hours and don't always have the opportunity to network with other experts in the field."

The Child Care Collaborative was created through Anoka-Hennepin Community Education to offer child care providers consulting, coaching, and support in an effort to strengthen the alignment between child care providers and Anoka-Hennepin Schools to ensure that children are kindergarten-ready. An early learning educator visits the child care, and together, they tailor a customized plan which may include consultation, goal setting, coaching and access to materials, resources and professional development after taking an in-depth look at the provider's environment, support for learning and teaching strategies.

"All of these kiddos will one day be in our schools, and we want to focus on these children and the providers that are serving them," Anoka-Hennepin Schools early learning educator, Jeanne Croteau, said.

Melissa Kalahar, a child care provider in Champlin, was excited about the opportunity. "My child care is my business, and it's in my own home," she says. "The goals that we set and the resources that we select are based on the areas that I want to prioritize for myself and for the children I care for."

Through collaboration, early learning educators and child care providers review and select learning resources for children based on their needs. In addition, similar tips and tools may be sent home with the families to build upon the learning at home. ECFE staff and child care providers may choose to enhance the physical learning environment, or focus on the curriculum side of the program by selecting assesment tools or learning activities.

"The program really is geared for supporting me," Kalahar said. "It's wonderful to have another adult coming in to my child care; I can bounce ideas off of Jeanne and she has all the resources that I need at her fingertips."

"It's great for providers to be able to ask questions, and we can provide tools and resources aligned with the school district curriculum to better prepare all children for school - for free," Croteau said.


The Child Care Collaborative program is available to area child care providers at no charge. Pass the news along to providers you may know: www.ahschools.us/childcarecollaborative.