Return to Headlines
High school students learn about voting and participate in statewide "Students Vote 2018"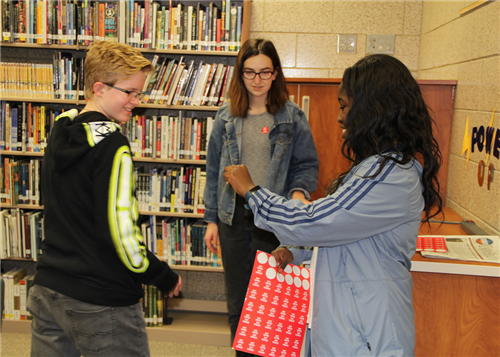 Election Day is next Tues., Nov. 6; but last week, students from four of the Anoka-Hennepin high schools participated in "Students Vote 2018," the statewide high school mock election program shared with schools across the state of Minnesota by the Office of the Secretary of State.

"As students cast their mock ballots…they are learning what it means to use their vote as their voice," a letter from Steve Simon, current Secretary of State, said. "When young people are given the opportunity to think of themselves as voters, they are more likely to become voters when eligible."

At Andover High School, "Students Vote 2018" was coordinated by Tammy Peterson, the Anoka-Hennepin Community Education youth service coordinator at the school, with the help of a handful of parent volunteers and students enrolled in the school Key Club. Four Key Club students stepped up to hang posters around the school, made announcements about voting in the school cafeteria, and asked their teachers to remind their fellow students about participating in the mock election. On mock election day, parent and student volunteers through the youth service program signed in student voters, distributed and accepted ballots, and tallied the results.

"I wanted to help Mrs. Peterson with the mock election because I believe that it is a person's civic duty to vote," Angela Sem, a senior at Andover High School, said. "It's important to learn and participate in the mock election because it makes it easier to continue voting as you grow up, in real life elections."

In some instances, the Key Club students took the opportunity to lead conversations about election day in their classes. Annie Paulson, sophomore, said, "I think it's important for students to participate because we should be forming political views and voting is important right that we will have, one day."

Sofie Sherborne, another sophomore who volunteered her time and efforts to help organize the mock election at the school, explained how a teacher was able to weave the voting process into a classroom learning opportunity, "Our English teacher asked us to read anonymous candidate profiles and select which ones our values aligned with – before revealing the candidate's name associated with the profile."

A total of 285 high schools across the state of Minnesota participated in Students Vote 2018. Nearly 200 of the 1,770 students at Andover High School voted during their lunch period.

"In the end we will be able to take a look at how our student voter turnout connects with the real-life election and the final results," Peterson said. "We see that the students have to give of their time to participate in the election just like adults do – and the student election allows us to see how it relates to the real world on a smaller scale."

For information about voting, see what is on your ballot, or to find your polling place, visit the Minnesota Secretary of State website at www.sos.state.mn.us/elections-voting/.