Return to Headlines
High school/kindergarten collaboration gives students opportunities to celebrate Earth Day, and more.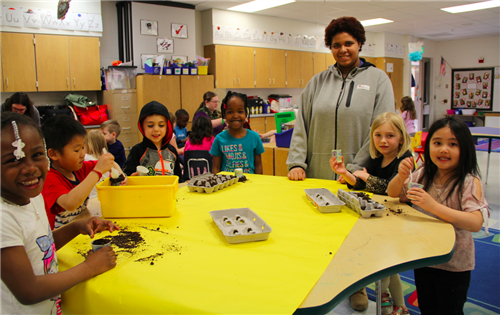 Earth Day was this Monday, and what better way to celebrate than getting your hands dirty and planting?

Coon Rapids High School (CRHS) Leo Club students have partnered with kindergarten students at Morris Bye Elementary School to foster a love for learning and service in their own school communities.

In a two-day project, Leo Club students traveled to Morris Bye Elementary, Thursday, Apr. 18, to help the kindergarten plant seeds in cardboard egg cartons and talk about what the plants will need to grow. The plants will stay near the windows in the kindergarten classroom for the students to care for, and Leo Club students will return to the kindergarten classroom May 7 to transplant the newly grown plants into recycled two-liter bottles and bring home as Mother's Day gifts.

"The partnership builds upon our curriculum," Lindsey Hawkins, kindergarten teacher, explained.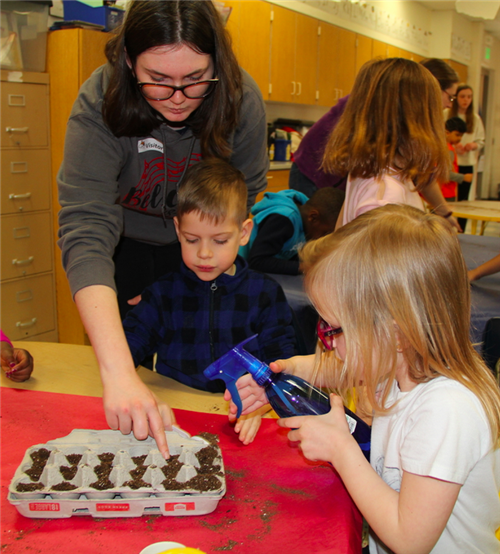 "In our Explorations class, the students were already learning about worms and how plants grow, and now we are able to try this hands-on activity and it comes to life for students."

The Leo Club is part of the Youth Service program, which is coordinated by Anoka-Hennepin Community Education. A Youth Service Coordinator at each traditional high school coordinates meaningful leadership and service opportunities, trips and projects benefiting the community.

Stefanie Nelson, the youth service coordinator at CRHS, helped facilitate the partnership between the high school and the elementary school, seeing it as a leadership opportunity for the high school students, giving them an opportunity to mentor young people and share their passion for service. It's a great example of how people of any age and ability can make a difference in their community.

This isn't the first time that groups have collaborated. In February, the Leo Club students worked with kindergarten students to make kindness projects, including Friendship Grams, which the Morris Bye kindergarteners brought back to CRHS to deliver to high school students during "Random Acts of Kindness Week."

"Through these experiences with the high school students, the kindergarteners have developed strong, diverse, impactful relationships with positive role models," Hawkins said. "Our kids look forward to the collaborative projects as they receive first hand experiences to a variety of leadership skills that lend opportunities to problem solve, work together and collaborate."