Return to Headlines
National Community Ed Day is celebrated the week of Nov. 10-16
Nov. 10-16 is National Community Ed Week, and this year marks the 50th year of community education in Minnesota. National Community Ed Day is celebrated in Minnesota, and nationwide, the second Thursday of November.
The formal movement of Community Education began in the 1950's in Flint, Michigan where a teacher, Frank Manley, saw the untapped potential in the school buildings that sat unused after the regular school day ended. His dream was to improve the community by making the local schools a focal point for health, recreation and adult education classes.
In 1969, Minnesota's governor called a statewide summit and began the discussion of bringing community education to Minnesota. In 1971, Minnesota became the fourth state to pass community education legislation with sixteen school districts beginning community school programs. Later years brought funding for other programs, including ECFE, School Readiness, the special needs levy for school-age care, ABE, and youth development/service, and youth enrichment.
Today, Anoka-Hennepin Community Education continues to grow and flex in creative and innovative ways in an effort to collaborate with the traditional K through 12 school day while meeting the wide range of needs of our students, staff, and community members. Each day, communtiy education impacts people, 24 hours a day, seven days a week. For example:
At 5:45 a.m., adults gather at the pool for lap swim and aquatic exercise.
At 6:30 a.m., parents drop-off children off at Adventures Plus so they can commute to work and support their families.
At 9 a.m., families arrive for parent education classes with their babies and toddlers; and three- and four-year-old children sit down for circle time in preschool classrooms.
At 10 a.m., volunteers arrive in our schools, eager to support classroom teachers who need help chaperoning a field trip, or have students in their classes that need one-on-one support with math or reading.
At 11:30 a.m., community ed coordinators engage with students in school hallways and cafeterias - inspiring them to pursue a new interest after-school.
At 1 p.m., adults and seniors in our community gather to learn about defensive driving, historic landmarks or try a new painting technique – while socializing and connecting with others.
At 2 p.m., people who are new to our country or want to get a better job develop a plan to achieve their academic and career goals through ABE programs.
After-school and in the evening hours, coaches and instructors lead enrichment classes and activities for children and people of all ages; or parent involvement staff offer workshops for families, PTOS or booster clubs.
At 11 p.m., building security staff lock the doors of school buildings across the district after adults wrap up a late-night basketball and volleyball leagues or open gym sessions.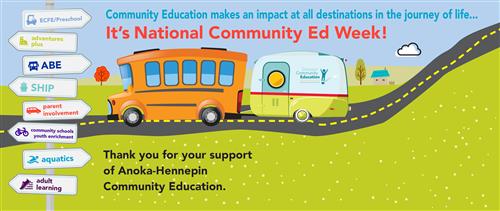 An incredible number of learners have benefited from the wide range of programs delivered through community education programs. In celebration of National Community Ed week, we thank our staff and our community for their support of community education programs.
Community Education impacts our communities at all destinations in the journey of life. Thank you for supporting Anoka-Hennepin Community Education today, and all year long. Follow us as we take a joy ride in visiting all the stops on the road map of life:
Thank you for supporting Anoka-Hennepin Community Education today, and all year long.