Return to Headlines
Anoka-Hennepin Community Education recognized with project award from Minnesota Community Education Association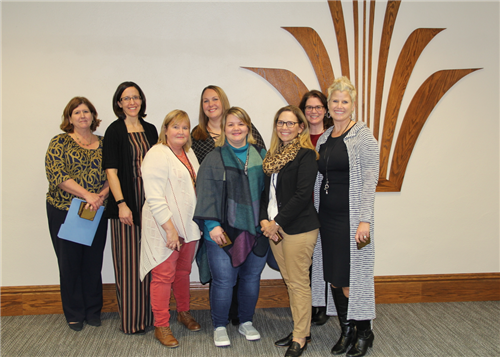 The Minnesota Community Education Association (MCEA) recently recognized Anoka-Hennepin Community Education with a 2019 project award for its work in creatively and collaboratively utiilzing Statewide Health Improvement Partership (SHIP) funding from Anoka and Hennepin counties to provide students enrolled in summer Adventures Plus school-age care program with a variety of resources to train staff and give students hands-on health and wellness learning opportunities.

MCEA project awards are presented to outstanding projects that have exemplified the concept of Community Education. A project may be either a one-time event or an ongoing activity that is associated with a Community Education program. Projects are judged on cooperation and teamwork, use of resources, achievement and community impact.
Community Education staff who contributed to the program were recognized at the Anoka-Hennepin School Board meeting Tuesday, Nov. 12. Project members included Jennifer Gilbert, wellness specialist; Mary Strack, Adventures Plus curriculum and training coordinator; and Adventures Plus site coordinators Kari Hatanpa, Colleen Godfrey, Jill Peterson and Emily Wise.

SHIP funds provided each summer Adventures Plus site – or 17 schools - with $300 worth of yoga supplies including mats, breathing balls, training posters and more. In addition, the Coon Rapids YMCA branch created a special training program for Adventures Plus staff, utilizing the Little Lotus yoga program. In addition, students have harvested a wealth of knowledge about fresh fruits and vegetables with the Farm to School health and wellness curriculum, which supplied the Anoka-Hennepin Community Education school-age care program, Adventures Plus, with more than $7,000 to purchase kitchen kits for all summer school-age care sites. The kits supplied all the tools needed for students to clean, prepare, cook with and sample fresh fruits and vegetables, straight from local gardens.

Students reported the incorporation of yoga helps them work through emotions such as anger and anxiety. Staff have shared that they believe yoga is a great tool for students if they feel overstimulated during a busy day, and they are able to coach students by understanding the connection between breathing techniques and social emotional learning. The Farm to School curriculum truly planted a seed in helping students grow and share what they have learned with their family and friends.
Read more about how the "farm to school" curriculum was part of Adventures Plus summer programming.
Read more about how yoga was part of Adventures Plus summer programming.