Return to Headlines
While COVID-19 throws curveballs, Community Education continues providing safe opportunities for learning, physical activity, social interaction and fun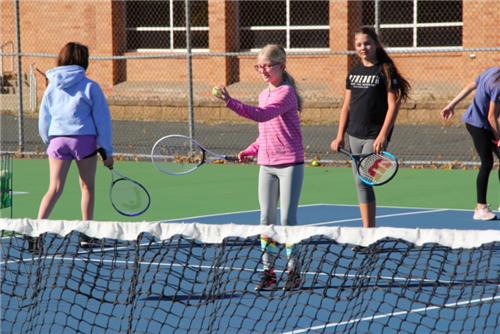 It's not just school schedules that have been adjusted this year – middle school athletic programs have found ways to creatively provide students with opportunities to stay physically active, socialize with friends, learn/practice skills and try new activities – while keeping students safe.

"We realize that families in our communities are looking for resources to give students positive youth development opportunities," said Kristin Keller, program supervisor of Community Education youth programs. "Although it may look different than it did last year or in the past, our team really embraced the challenge and has developed a quality intramural sports program in addition to other challenging and unique activities for students in our elementary and middle schools to participate in this year."

Anoka-Hennepin Community Education has traditionally offered the middle school athletic program each season, with teams competing against other middle schools across the district while emphasizing skill development, participation, sportsmanship and respect for others.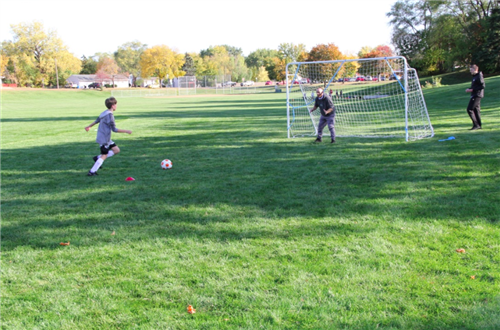 To emphasize safety this year, while aligning with state health and safety recommendations, students are encouraged to register for activities on their assigned in-person learning days for after-school programs, and participate in programs with students at their school.

Like the traditional school day, students, staff and coaches participating in activities wear face coverings when physical exertion allows and wash hands or use hand sanitizer each time they exit and enter the school buildings. Coaches and staff encourage social distancing and have adjusted drills and practice activities to accommodate that.

"Students are adjusting the best they can and they are doing a really good job," Anthony DeRosa, a coach at Anoka Middle School said. "The students are very respectful of health and safety, and we value that."

Middle School Athletics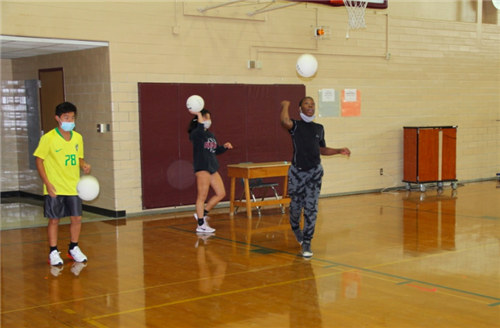 The intramural athletic program allows students to continue developing skills, participate in scrimmages with students in the same cohort, and find encouragement among their peers and adult mentors serving as coaches. "I think we were all just super excited to come back together after being out of school and activities for almost eight months," explained Anthony DeRosa, Anoka Middle School coach. "We get to invest in our kids again and build those important relationships in our school."

Anoka-Hennepin Community Education Coordinators note that most students are participating the same sports or activities that they would have in years past, but they are seeing an uptick in students joining to try out a sport or activity that they wouldn't have before, due to the desire for social opportunities, and more focus on fun.

"We are getting more one-on-one time to work with the kids, and they are getting more time to practice," said Anna Olson, a teacher and coach at Roosevelt Middle School.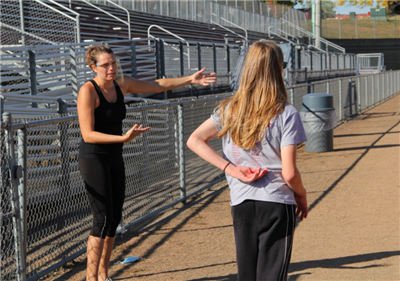 In addition to traditional school athletics, middle schools are offering alternative fitness activities including personal training, fencing and archery, to name a few.

Enrichment
For students looking for another way to unwind, connect with friends and challenge their minds, elementary and middle schools are offering enrichment opportunities such as finance/money classes, chess, cooking/baking classes, musical opportunities like drumming, and babysitting classes, after-school and in the evening.
Anoka-Hennepin Community Education is also offering swimming lessons, beginning diving and open swim in a limited capacity at Roosevelt Community Pool in Blaine.

"According to studies conducted by the University of Minnesota College of Education and Human Development, after-school programs really do matter," Keller said. "Youth who participate in afterschool activities tend to score higher on developmental skill indicators such as commitment to learning, positive identity, social competence and family/community support; and we are working to continue providing these opportunities for students and families across the district."
Browse offerings and register online
Anoka-Hennepin Community Education is still accepting registrations for fall classes and activities in its new online registration system. Browse all classes and activities, and register online.