Return to Headlines
Community Education youth service coordinators present students with President's Volunteer Service Awards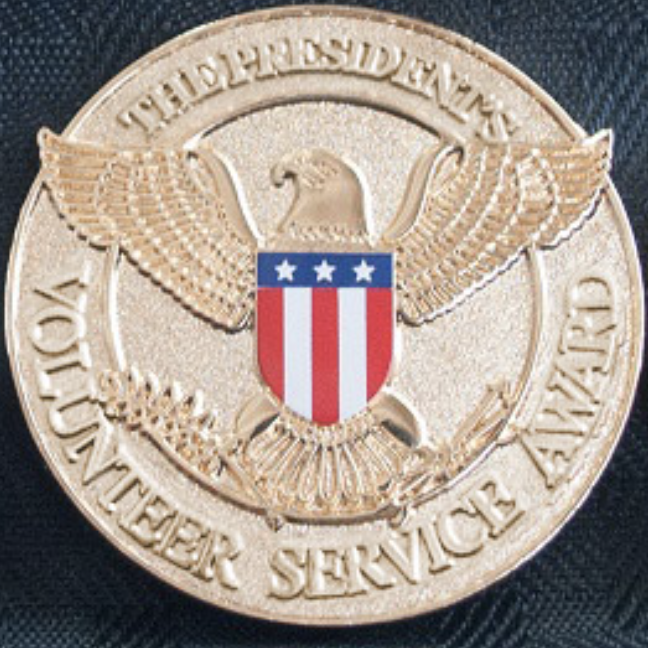 (4/21/22) Every April, during the third week of the month, organizations across the country recognize the many volunteers who keep their groups running, provide services, and make their communities better.
Anoka-Hennepin Community Education recognized some of their amazing volunteers who help support schools, staff and the student population on social media, but it's also an important time to focus on the students who do a record-setting amount of volunteering themselves!
During National Volunteer Week, April 17-23, 2022, Community Education youth service coordinators at each of Anoka-Hennepin's five high schools are honoring students who have earned a President's Volunteer Service Award. The award is an opportunity for coordinators to acknowledge their most outstanding volunteers and recognize the impact they make.
In order to earn an award, students must meet minimum volunteer hour requirements. The high schools honor both teens and young adults. There are three levels of recognition for each age group — bronze, silver and gold. Recipients receive a certificate, a pin, and a letter from the President of the United States.
"The numbers of award winners are down this year because of the pandemic," said Jane Hansen, Community Education youth service coordinator at Champlin Park High School. "But it's nice to recognize those students who were able to serve and reach their required hours." Hansen presented her students with their awards on April 14.
The volunteer hour requirements for the Presidents Volunteer Service Award are:
Teens (11-15 years)
Bronze = 50-74 hours
Silver = 75-99 hours
Gold = 100+ hours
Young Adults (16-25 years)
Bronze 100-174 hours
Silver 175-249 hours
Gold 250+ hours
To learn more about the President's Volunteer Service Award, visit https://presidentialserviceawards.gov/.
The following are the names of students who received a President's Volunteer Service Award for volunteer hours earned between January 1, 2021, and December 31, 2021:

Andover High School
| | | | |
| --- | --- | --- | --- |
| Grace Swanson | Grade 9 | 50 hours | Bronze |
| Kaelyn VanDellen | Grade 9 | 58 hours | Bronze |
| Tess Herman | Grade 9 | 60 hours | Bronze |
| Taylor Schultz | Grade 12 | 100 hours | Bronze |
| Alexander Froslee | Grade 11 | 100 hours | Bronze |
| Abigail Lueck | Grade 12 | 116 hours | Bronze |
| Sydney Ogren | Grade 9 | 125 hours | Gold |
| Maya Bastian | Grade 12 | 201 hours | Silver |
| Lindsey Green | Grade 12 | 211 hours | Silver |
| Grace Beuning | Grade 11 | 250 hours | Gold |
| Anya Campbell | Grade 11 | 265 hours | Gold |

Anoka High School
| | | | |
| --- | --- | --- | --- |
| Teagan Gordy | Grade 10 | 50 hours | Bronze |
| Anya Day | Grade 10 | 75 hours | Silver |
| Sydney DeRung | Grade 9 | 86 hours | Silver |
| Hannah DeRungs | Grade 10 | 97 hours | Silver |
| Jessica Jensen | Grade 9 | 104 hours | Gold |
| Tenzin Tseten | Grade 12 | 120 hours | Bronze |
| Gabriella Galvin | Grade 9 | 125 hours | Gold |
| Olivia Galvin | Grade 11 | 129 hours | Bronze |
| Vi Tran | Grade 12 | 130 hours | Bronze |
| Nichole Jacquez | Grade 12 | 152 hours | Bronze |
| Monica Swinney | Grade 12 | 175 hours | Silver |
| Claire Tembreull | Grade 12 | 177 hours | Silver |

Blaine High School
| | | | |
| --- | --- | --- | --- |
| Brielle Hachey | Grade 12 | 105 hours | Bronze |
| Aaron Anderson | Grade 11 | 227 hours | Silver |
| Andrew Rono | Grade 11 | 227 hours | Silver |
| Adhithya Anandaraj | Grade 11 | 300 hours | Gold |

Champlin Park High School
| | | | |
| --- | --- | --- | --- |
| Clara Ampig | Grade 10 | 69 hours | Bronze |
| Maura Wahl | Grade 11 | 100 hours | Bronze |
| Kariana Bork | Grade 11 | 101 hours | Bronze |
| Madeline Evenson | Grade 11 | 103 hours | Bronze |
| Claire Hentges | Grade 10 | 109 hours | Gold |
| Sloane Collins | Grade 9 | 178 hours | Gold |
| Gabrielle Wahl | Grade 11 | 185 hours | Silver |
| Lauren Retzer | Grade 11 | 186 hours | Silver |
| Nguyen Vinh Le Vo | Grade 12 | 250 hours | Gold |
| Lindsey Riese | Grade 11 | 255 hours | Gold |
| Shaine Kilyun | Grade 11 | 267 hours | Gold |
| Melia Lachinsk | Grade 11 | 309 hours | Gold |

Coon Rapids High School
| | | | |
| --- | --- | --- | --- |
| Macy English | Grade 10 | 94 hours | Silver |
| Kaitlynn Fuller | Grade 11 | 109 hours | Bronze |
| Trinity Mouacheupao | Grade 12 | 163 hours | Bronze |