Return to Headlines
Wilson Elementary Adventures Plus students reach for the sky to meet community service goals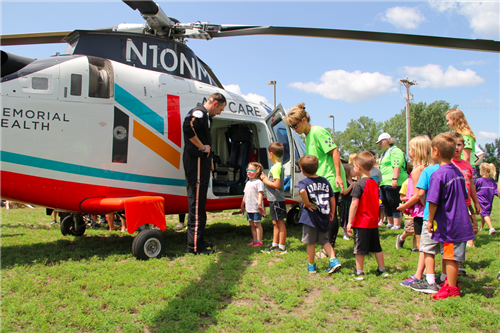 Over the past two weeks, students enrolled in the summer Adventures Plus school-age care program at Wilson Elementary School have been learning about what it means to be a community helper by participating in a community service project – collecting food for the ACBC Food Shelf, and band-aids to donate to local hospitals and clinics.

On Monday, July 22, student excitement was heightened when students met community helpers, in person. The community service project wrapped up with a visit from the North Memorial Air Care helicopter and Anoka police and fire departments, to see vehicles up close and learn about how they help care for and support our communities.

Over 140 students were in attendance, to explore the vehicles and ask community helpers detailed questions about their jobs and the vehicles that they drive. In addition, the students donated four large boxes of non-perishable foods to the ACBC Food Shelf in Anoka, and one large box filled with first aid supplies and band-aids to Mercy Hospital in Anoka.

"The students enjoy the community helper theme because we get to learn about first responders, police officers, fire fighters, doctors and dentists," said Jane Machut, Adventures Plus site leader at Wilson Elementary School. "I love working with students in the summer because we are able to not just teach them about these themes – but show them what it looks like in real life with opportunities like this."

During the summer months, Adventures Plus provides additional care opportunities for incoming kindergarten, elementary and middle school students. The program provides a safe, nurturing atmosphere for students over the summer, by providing age-appropriate learning experiences and opportunities using a theme-based curriculum and activities that range from arts, crafts, dance/movement and drama; literature and music; sports; cooking; science discovery; sensory and outdoor play; small- and large-group activities; and field trips. Curriculum themes like "Community Helpers" is just one of the many opportunities that students have to explore while in the summer program.

Adventures Plus school-age care is offered at each Anoka-Hennepin Schools elementary school year-round, and at rotating elementary and middle school sites over the summer months. To learn more about the program, visit www.ahschools.us/adventuresplus.

Related links
Watch the video story from North Metro cable television.
Read the article from ABC Newspapers.