Return to Headlines
Comedian and Blaine graduate Andy Erikson to headline AHEF's Feb. 11 Northern Stars Celebration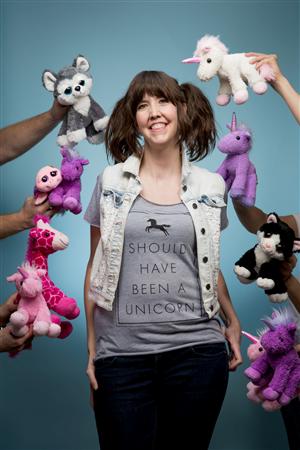 Guests at this year's Northern Stars Celebration are going to bust a gut. Or slap a knee. Chuckle, guffaw or maybe even snort.

Ms. Andy Erikson, a 2005 Blaine High School graduate and finalist on NBC's "Last Comic Standing" in 2015, is that good — and she's the lead entertainment at this year's event.

For more than 20 years the Anoka-Hennepin Educational Foundation (AHEF) has hosted an annual celebration recognizing excellence in the district's schools called the Northern Stars Celebration, and in recent years, has featured a headlining entertainment act. Last year it was "A Prairie Home Companion's" Garrison Keillor, who also happens to be an Anoka High School graduate. This year it's the comedy of Erikson and the musical talents of students from Andover High School. See Erikson's standup.

The celebration is set for 5:30 to 10 p.m., Saturday, Feb. 11, 2017, at the Minneapolis Marriott Northwest, located at 7025 Northland Dr. N in Brooklyn Park. The evening's events will consist of games, raffles, dinner and entertainment, along with silent and live auctions including tickets to the 2018 Super Bowl and tickets to see the new hit Broadway musical "Hamilton" in Minneapolis.

"We come together each year to celebrate how our generous donors' have positively impacted our students, schools and communities," said event chair and parent of graduates of the district, Ann Sievers. "The Anoka-Hennepin School District and our foundation impact the daily lives of more than 37,000 students and 250,000 families and we want to recognize this combined success."

The Northern Stars Celebration — in addition to serving as a wonderful night of entertainment — also serves as a community-based fundraiser to support the educational foundation's three strategic priorities: enhancing early childhood education; expanding talent and opportunity development; and increasing career and college readiness.

The celebration is also a fabulous night out with a chance to meet new people, have fun with friends, and socialize with neighbors. The Northern Stars is a lively — not formal — event that raises funds that make a huge difference for our students.

Parents, staff and members of the community are invited to attend.

Tickets are $75, of which $40 is tax deductible as a charitable donation. Tables of eight are available for $600. Online registration is available at ahschools.us/ahefnsc. Event sponsorships are also available and inquiries should be directed to Tess DeGeest, executive director of the AHEF, at 763-506-1107.



A 501c3 non-profit organization, the AHEF is the non-profit organization dedicated to supporting students and schools throughout the Anoka-Hennepin School District. Since 1991, the AHEF has distributed more than $2.5 million to enrich the educational experience of students.