Return to Headlines
Jason Paske named principal of Blaine High School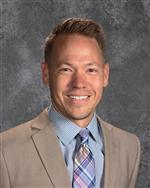 A familiar face has been tapped to officially become Blaine High School's (BHS) principal.

Jason Paske, who's been the school's interim principal since August, has been named as the permanent choice to lead the school effective July 1.

Paske was named interim principal of BHS in August following the announcement by John Phelps that he was resigning his position as principal for personal reasons.

Paske is a familiar face to students, families and staff at BHS. Before taking over as interim principal, he had been serving as an assistant principal at the school — something he had done since 2011. Before that, from 2002 to 2006, he was a math teacher at the school.

Paske received his bachelor's degree in Mathematics Education from Winona State University and earned a Master's degree in Teaching and Learning and his education specialist designation through St. Mary's University.

Over the past few weeks, the district conducted a search for a new, permanent principal for BHS, which included community input and interviews with a number of qualified candidates.