Return to Headlines
Champlin Park's Lori Brumbaugh named ACTE Region III Teacher of the Year
(11/02/18) Lori Brumbaugh has impacted the lives of hundreds of Anoka-Hennepin students over the last 25 years. And now she's getting recognition for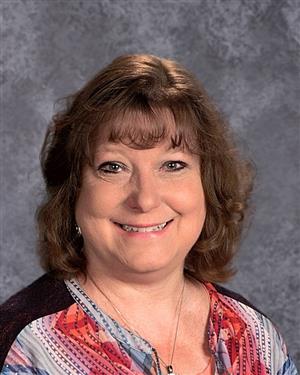 her work.

Brumbaugh, a Family and Consumer Sciences (FCS) teacher at Champlin Park High School (CPHS), was recognized on Oct. 30 as the Association for Career and Technical Education (ACTE)/Region III Teacher of the Year.

She received the award at the Minnesota Association for Career and Technical Education (MnACTE) Awards Banquet held at the Minneapolis Marriot Northwest Hotel in Brooklyn Park.
Brumbaugh, who has spent her entire career in the district, was previously named the 2017 Minnesota Family and Consumer Sciences Teacher of the Year, but this year, being the career and technical education teacher of the year means so much more to her.
"I was so proud to be named the family and consumer science teacher of the year last year," Brumbaugh said. "But I am beyond proud to be named the career and technical education teacher of the year as this is the overarching umbrella of career technical education."

Brumbaugh is believed to be the first ever FCS teacher to win ACTE Teacher of the Year honors in Region III. Brumbaugh is really proud to be involved in FCS and looks at herself as one of the voices for the program in the region.
Nominated by the MnACTE, Brumbaugh was selected above other candidates from Region III (Illinois, Indiana, Iowa, Minnesota, Missouri and Wisconsin). This award recognizes the finest career and technical teachers at the middle/secondary school level who have demonstrated innovation in the classroom, commitment to their students and dedication to the improvement of Career and Technical Education in their institutions and communities.
Brumbaugh has been a curriculum leader at the district, regional and state level and recently worked with her colleagues on the district FCS courses, cross-walking the national FCS standards and aligning Minnesota state frameworks to course outcomes. She has also led curriculum workshops throughout the state.
Students at CPHS have benefited from many experiential learning opportunities through field trips to two-year community colleges and internship connections with local schools and businesses because of Brumbaugh's work. During her time at CPHS, more than 600 students have earned college credit through her coursework. She has connected students regularly with representatives from Head Start, Montessori Schools, Anoka-Ramsey Community College, Hennepin Technical College, after-school elementary programs and other childcare centers.

"The thing I am most proud about is how hard we have worked in Anoka-Hennepin on the 'grow your own' program for our students." Brumbaugh said. "We have worked for many years with our students to explore careers in education."

Brumbaugh has been instrumental in offering Anoka-Hennepin students the opportunity to take early childhood careers and child development courses and gain articulated college credit. The students also have been able to acquire valuable hands-on experiences working in school readiness programs with children ages 3-5.

"My greatest joy is seeing all of our students working with other children in our school system," Brumbaugh said. "They really get a feel of what it is like to be in the world of education."
Brumbaugh has also received tremendous support from Family, Career, and Community Leaders of America (FCCLA). Since 1985, a total of 19 of Brumbaugh's students have been elected as state officers, more than 20 have participated in national leadership events and over 400 have attended the state conference, with many earning gold medals.

When reflecting on the impact she has made on so many Anoka-Hennepin students throughout her career, Brumbaugh said it brings tears to her eyes, especially when she sees so many teachers working in our schools that went through the program.

"They are paras, teachers, counselors and are back working in our schools and now we are working together," Brumbaugh said. "It is a dream come true to see former students working in our schools and in our community."

Brumbaugh said that it doesn't all fall on her shoulders, though. "Its our administration, our principals and our teachers that are allowing them to succeed."

She will be competing against the four other regional winners for the right to be named the ACTE 2018 National Teacher of the Year.

When asked about what it means to her being recognized at the national level, Brumbaugh was emotional, but also humble. "I am here for the students and I want to be an advocate for them," Brumbaugh said. "I have just worked on my career and do my very best for our students and always advocate for them and to get programs that they need to be successful, but it is so incredible to have this opportunity and I love teaching and working with students. I feel so lucky."
Brumbaugh will attend the ACTE Career Vision Conference in San Antonio, Texas Nov. 30 through Dec. 2 where the National Teacher of the Year will be named.