Return to Headlines
University Avenue's Kate Watson named local Air Force Association teacher of the year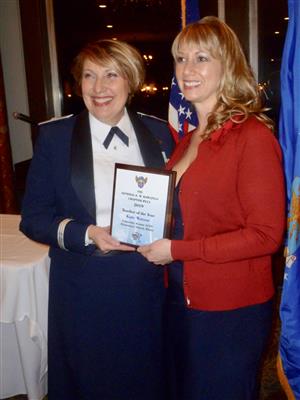 (04/19/19) University Avenue Aerospace, Children's Engineering and Science Elementary School (UAE ACES) in Blaine is home to a teacher of the year.

Kate Watson, curriculum integrator at UAE ACES, was named the E.W. Rawlings Chapter of the Air Force Association Teacher of the Year on April 5. The award recognizes top performers in U.S. Air Force and related aerospace programs, according to the Rawlings Chapter, which includes most of Minnesota.

"I'm terrible at compliments and attention like this," Watson joked. "But seriously, I'm both surprised and humbled that they have recognized the work that I've been fortunate enough to do in STEM and aerospace education while at (UAE ACES)," Watson said.

(Photo: Kate Watson, right, receiving her award plaque from Brig. Gen. Sandra Best, the chief of staff of Minnesota's Air National Guard.)

Watson said she's been most inspired by the reaction and support from her colleagues.

"The staff has been very congratulatory and supportive," she said. "And it's been really wonderful to be able to share the amazing things we're collectively doing at (UAE) with a broader audience. At the banquet — so many people wanted to learn more about the innovative and community-based experiences that we bring to our students. It was great to showcase our amazing school and students."

Watson's job is unique, and one she loves, she said. As curriculum integrator at the school, she said she's able to facilitate teachers while also connecting our students, community, and families with STEM aerospace education in an inquiry-based and engaging way. "It's a fantastic job," Watson said.

Her journey to being named the organization's teacher of the year was about three years in the making, and a result of the work she does forging partnerships for UAE ACES.

Watson, a number of years ago, strongly supported a relationship with the National Civil Air Patrol to bring in aerospace education to the school. Then, in 2014, Watson was honored as the National Civil Air Patrol's Coordinator of the Year for her work.

"The Air Force Association partners with the Civil Air Patrol, so I was on their radar," she said. "Fast forward to this year, and the (Rawlings Chapter of the Air Force Association) reached out and asked if I'd speak to their board about STEM education and how we use aerospace at our school. That's when I found out I was their Teacher of the Year, which was surprising. They had followed my work."

And the association was happy to name Watson their teacher of the year. "This is her moment to shine and our opportunity to honor (Watson's) contributions to an indomitable U.S. Air Force, and (the) strong STEM education in the Twin Cities," said Jeff Johnson, president of E.W. Rawlings Chapter of the Air Force Association.

UAE ACES Principal Diedre Bloemers said Watson is more than deserving for this kind of recognition.

"(Watson's) enthusiasm, her innovativeness, her genuine concern for showcasing and integrating STEM (programming) in education are exemplary," she said. "(Watson) creates opportunities for students, staff and school by developing STEM and aviation partnerships with airports, commissions, other schools and local STEM engineers and scientists."

From here, Watson will move on to the Air Force Association's national teacher of the year recognition, something she'll learn more about in the coming weeks.

The Air Force Association is a 72-year old non-profit organization started by retired generals, senior enlisted and community leaders after World War II.