Return to Headlines
Anoka-Hennepin students and staff honored at BestPrep annual luncheon
(06/28/2019) On May 23, students from Oxbow Creek Elementary School and Lori Brumbaugh, family and consumer sciences teacher at Champlin Park High School (CPHS), were honored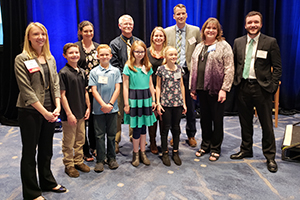 at the annual BestPrep luncheon.

Brumbaugh was honored with an Educator of Excellence award while the students earned recognition for their work in the Stock Market Game.

BestPrep is a Minnesota-based nonprofit organization that provides educational programs to students in grades four through 12, with the mission of preparing students with business, career, and financial literacy skills through hands-on experiences that inspire success in work and life.

John Wippler and Kori Gasser both teach fourth-grade at Oxbow Creek and were advisors of teams who were recognized. Wippler's team placed third in the yearlong portfolio equity contest, creating a portfolio value of $116,237.21. Gasser's team placed fifth with a portfolio value of $114,497.83.

In playing the Stock Market Game, working in teams of two to five members each, students invest $100,000 of virtual money in the stock market over a 14-week period while building a fundamental knowledge of the global economy. Autonomously managing their portfolios, students can buy and sell securities as often or seldom as they like.

"I was so excited for the two teams that went above and beyond to learn about the stock market and build their financial literacy skills," Brumbaugh said. "It's so fun to see elementary students being so excited and dedicated to learning about finances and the stock market, and seeing them finish so highly, is just phenomenal."

Brumbaugh, who has spent her entire career in the district, has partnered with BestPrep for several years as a valued FACS teacher, participating in programs such as financial matters and classroom plus. She strives to provide real-life applications of knowledge and hands-on activities for her students by utilizing classroom speakers and encouraging connections made through engaged learning.

Earlier this year, Brumbaugh was named the Association for Career and Technical Education (ACTE)/Region III Teacher of the Year. She has been a curriculum leader in FACS courses at the district, regional and state level, while also leading curriculum courses throughout the state.

"I just really believe in wanting to give our students a good start in life, and one of the things I enjoy most about BestPrep is providing access to experts in the business world," Brumbaugh said. "Bringing qualified professionals into the classroom to share knowledge and experiences allows me to enhance the educational experience in the best interest of our students."

Through BestPrep, Brumbaugh has been able to implement the teaching of financial literacy skills, as well as the available careers in business and finance. She has introduced students to the importance of record keeping and investing, debt relief, how to buy a house, and so much more.

"What is really fun for me is when my students get that 'ah ha' moment and they understand how a mortgage works," Brumbaugh said. "They are getting a real feel and understanding of the importance of financial literacy."

Making the luncheon extra special, Brumbaugh received her award from Jessie Welton who works for the Federal Reserve Bank of Minneapolis, and who just so happens to be graduate of CPHS.