Return to Headlines
Anoka-Hennepin seeks parents/guardians to participate in Special Education Advisory Council (SEAC)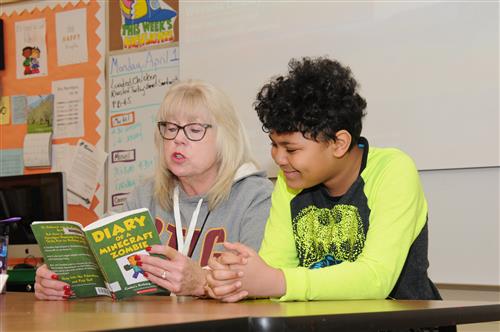 (08/23/19) Anoka-Hennepin is seeking parents/guardians to join the district's Special Education Advisory Council (SEAC) for the 2019-20 school year.

Specifically, SEAC (pronounced "seek") is comprised of parents/guardians of students in the district who receive Special Education services. The intent of SEAC is to advise the Anoka-Hennepin School District on different aspects of special education, such as policies, procedures, and communication.

According to Stacey Dahlby, the district's director of Special Education for secondary schools, the council is really a partnership between parents/guardians and the school district. "It's a way for us to get the perspective of parents/guardians, and then try to improve our services and programming, and processes and procedures," she said. "It's a chance for parents/guardians to give us feedback on the impact these areas have on students with disabilities."

The first SEAC meeting will be held on Oct. 10, with three other meetings to follow on Nov. 14, Feb. 27, and April 16. Child care is provided by the district, and meetings are always held at the district's Educational Service Center (ESC), located at 2727 N. Ferry St. in Anoka. Meetings begin at 5:30 p.m. with a light meal, and the meeting commences at 6 p.m. and lasts about an hour and a half. Topics will be generated ahead of time, based on district initiatives and SEAC member feedback. Those interested should RSVP to attend, either by filling out a Google form, or by contacting Mary Gale at 763-506-1362, or Mary.Gale@ahschools.us. Parents/guardians who wish to be part of SEAC are asked to make an effort to attend all four meetings as council members.

SEAC is evolving, Dahlby said. In previous years, the council was an information gathering resource for parents/guardians. Now, Dahlby said, the goal is to have SEAC be a true advisory council. "We want SEAC to be a way that parents/guardians can really advocate for all students with disabilities receiving services throughout our system," she said.

In particular, Anoka-Hennepin is looking for a broad range of parents/guardians, from those representing early childhood, all the way to elementary, middle school, high school, and transition-aged students. Dahlby also said they'd like a full continuum of student disabilities represented.

"As educators, we are often lacking the perspective of parents and guardians supporting students who receive services on Individual Education Programs (IEPs)," Dahlby said. "Their voice matters. In order to improve, we need to hear about their journey as they go through our system."

That said, SEAC will aim to look at Anoka-Hennepin Special Education services from a global perspective, Dahlby said. "We're not talking about one disability category, but a broader view — the whole spectrum," she said.

For more information about SEAC, visit the council's webpage.