Return to Headlines
Dressed for success: Johnsville's Scott Zachmann uses neckties to engage in fun, unique way with students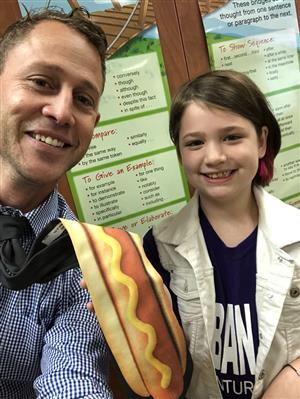 (10/25/2019) Scott Zachmann was taught from a young age to dress well in professional settings.
"My dad always said, 'dress for success,'" he said. "So for a long time, neckties have kind of been my thing."
And most days, Zachmann, who just started his 14th year teaching fourth grade at Johnsville Elementary School in Blaine, wears one — even if it means confidently sporting a hotdog necktie. Or a bright yellow necktie with a bunch of smiley face emojis. Or a tie featuring the classic Nintendo game, Duck Hunt.
In fact, no matter the tie, no matter how badly it clashes with the shirt he's wearing, which Zachmann says happens often, he happily wears a tie most days for one simple reason: it's his students who are picking the tie out for him.
"The kids love the ties — they really get a kick out of it," he said. "It's important to them."
In the back of his classroom, Zachmann has a tie rack that features 58 neckties and another five bowties. Most are pretty ugly — intentionally so, and are a mix of ties students and colleagues have gotten him as gifts over the years. Every morning, he has one of his fourth-grade students pick the tie he'll wear for the day from the rack.
Choosing who gets to make the daily selection is easy, he said. Every student gets to pick the tie he wears on their birthday. Other days, he picks students randomly. Sometimes he'll reward a student who did something amazing in class, other times he'll use it as a chance to lift a student who is having a rough day. Regardless, it's a fun way to engage with students, and it's unique enough that students will carry the positive memory with them for years.
"The tie thing has been fun for me, because they have a memory of their elementary days that sticks with them," he said. "I have kids all the time who come back and say they remember picking the ties."
The neckties are just part of Zachmann's high-energy classroom, which he said also features a lot of dancing, cheering and positivity.
"It's all about making school fun," he said. "We always ask students to be their own individual — to be comfortable in their own skin. So I do that, too. I've always had that energy," he said. "So when kids do something really great in class, I'll have them come to the front and take a bow. We're always high-fiving. I dance on desks. I have a lot of fun being a teacher."
To get a flavor of Zachmann's daily ties, check out the hashtag #IPickedMrZsTie on Twitter.