Return to Headlines
Child nutrition rolls out new menu items, begins creating more for next year
(10/25/19) Anoka-Hennepin head chef Faith Ford is continually on the lookout for the latest and greatest in food trends to offer nutritious variety for students across the district. Already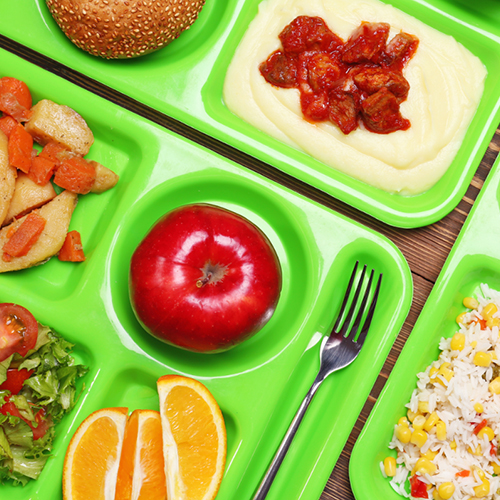 planning for 2020-21, the child nutrition department is happy to share the success of the 16 new items that were made available to students this year.

Some of the new favorite dishes include Nashville hot chicken bites, a variety of quesadillas, calzones, and numerous salads.

"We are always looking to come up with new ideas that are on trend, and market-focused kid-friendly meal options," Ford said. "We have spent numerous hours in the kitchen working with staff to make sure we can duplicate the recipes we develop."

The next most important step after development, according to Ford, is talking to the students. Elementary and high school students play a major role in the decision-making process on what types of meals are provided.

That's where the fun begins. Ford and her team get to work in the kitchen developing recipes, which are then taste-tested by elementary and high school students at events throughout the year. Students provide feedback, and the department makes the decision whether or not to implement one of the new recipes on a larger scale.

The biggest hit this year has been the semi-scratch made quesadilla, which Ford said a secondary kitchen staff can make upwards of 2,000 quesadillas per day when that menu item pops up on the calendar.

Another popular item has been the calzones, which are offered in a variety of options, including meatless, which Ford said is important for her staff to offer those alternative options.

Even after a menu item hits the main line, the child nutrition staff is always taking feedback from students to continually improve.

"We are always receiving feedback from students," Ford said. "We even recently received a petition from an elementary school to bring back an item we had taken out of the rotation, the kids are brutally honest."

Ford added that students are thinking about the foods they are putting into their bodies a lot more now than in the past, and that students want the option to build their own meals. Students now have options such as the deviled egg dip lunch box, and the build-your-own pepperoni pizza box. Other more customizable meals such as chopped buffalo chicken salad and fiesta chicken salad are popular amongst students.

"We do want to offer choices for students and we are always looking at the market to see how we can compete," Ford said. "We are also very open to suggestions and love student feedback."

Looking toward next year, Ford said that her team is working on developing house-made impossible lasagna, similar to the Impossible Burger, which is a plant-based ground beef. Students will begin taste-testing this new product in November.