Return to Headlines
Coon Rapids High School senior biomed students get a head start on research projects
(10/31/19) A month isn't a long time for a science research project, but it is helping seniors enrolled in the biomedical sciences program at Coon Rapids High School (CRHS) set a solid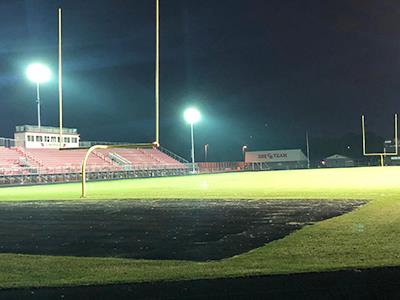 foundation for the school year. A senior-level physiology of the human body class had the task of researching a topic, conducting tests, and presenting their findings, giving them a glimpse of what it will take to complete a senior capstone project at the end of their senior year.

Seniors presented their findings to other first hour science students, teachers, and administrators in the new flexible learning spaces made available by the Fit for the Future construction. View photos of students presenting at CRHS.

"This event really allows the students to showcase where they are at in terms of different types of skills — such as setting up and presenting experiments," said Luke Gliddon, physical science teacher at CRHS. "It offers really practical experiences that the students will use during larger projects throughout the course of the school year."

Projects focused on how the human body works and how the body reacts to different types of stimuli.

Experiments ranged from the effect of liquids on tooth enamel, to how emotions can affect the cardiovascular system, or how popular energy drinks affect heart rate, something that is is likely relevant to most high school students.

"This self-directed research experience, that for most people only comes in undergrad, and many more in graduate school," Gliddon said. "It's really an awesome experience to have at the high school level to show yourself off and gain confidence speaking in front of others."

Kaitlin Golmen and Nicole Bisset teamed up on a project that tested the effect of Red Bull on heart rate and both relished the opportunity to choose their own topic and see it through from development to presenting their findings.

"This was the first experiment where we were able to choose what we wanted to do and run it ourselves," Golmen said. "It makes us proud to present to our class and peers, because this was our work."

Bisset agreed, adding that having the opportunity to be exposed to college-level type experiences gives her and her peers an advantage when they get into postsecondary settings, but it also prepares them for so much more because of the skills learned, such as social skills, presentation skills, skills that will help them succeed in life.

This was just the first of many opportunities CRHS biomed students will have to present projects this year. Last year, seniors presented their research projects to Medtronic employees and researchers, who then picked projects which were presented at the CRHS senior capstone event in May.