Return to Headlines
Jackson Middle School seventh-graders Get Movin' for integrated learning opportunity
(11/07/19) At Jackson Middle School - A Specialty School for Math and Science (JMS), integrated learning opportunities are a big part of the specialty school curriculum. These opportunities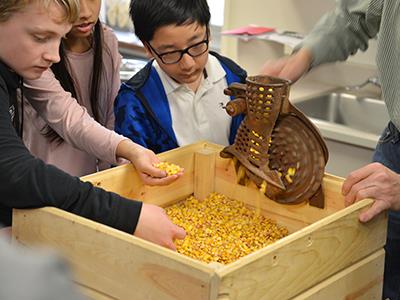 allow students to further investigate things they're learning as they integrate math and science into their core curriculum.

Each trimester, students in grades six through eight participate in an integrated learning opportunity, and on Nov. 6, seventh-grade students investigated movement on Get Movin' Day. View photos from the day.

Throughout the day, students moved around the school and participated in activities surrounding fitness, immigration, migration of people and animals, and Movin' Math using breakout boxes.

For the animal migration lesson, students learned from Minnesota Zoo zoologists, who brought live animals in for presentations.

"This day is really designed to get students thinking outside of the box," said Christy Gilbertson, curriculum integrator at JMS. "We use this as a way to showcase how all of their subjects combine. It allows them to think more deeply and see real-life experiences of what they are learning in class."

Students are engaged in learning, but the day is also meant to be fun too, which Gilbertson says is a powerful way for students to see how they can relate their classwork to real-life problems or experiences.

Each student carries an investigative journal with them to sessions and following the integrated learning opportunity, they will bring those back to their core classes and debrief on what they learned.

To conclude the day, all seventh-grade students convened in the gymnasium to hear from Bryan Skavnak, founder of Be the Nice Kid, and author of the No. 1 best-selling book, Happy Golf Starts Here. Skavnak and his Be the Nice Kid message spreads positivity and inspiration to kids through speaking engagements reminding students that how you treat people matters.

"We really wanted our students to hear about how a positive attitude can affect all of their learning," Gilbertson said. "Having a positive attitude, being kind, and creating a culture of kindness in our school can help us learn better with that type of mindset."

In the second trimester, seventh-graders will investigate differences in an integrated learning opportunity titled "Under the Microscope" before ending the school year with "Gone Viral," an investigation of growth.