Return to Headlines
Three students enrolled in the district's Compass program have poems published
(01/10/2020) The walls in first-year teacher Dalton Pieske's classroom at the Compass-Bell Center are decorated with words that he hoped would set the foundation for his students.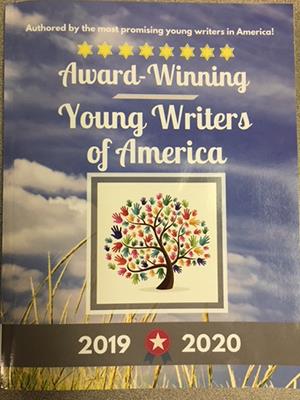 Artistically displayed he has signs that remind students three simple, but strong messages: You are loved, You have a voice, and You matter.

When those signs were placed on the wall, Pieske hoped the messages would help his students realize their potential, but it was a project at the end of the first trimester that really brought the students together to make those words become as meaningful as their teacher had hoped they would.

The project seems like a simple one, but once broken down, it was one that would bring students outside of their comfort zone. Students were given the task to write a poem about themselves, about their experiences and about their feelings after reading a poem by Kelly Norman Ellis titled Raised by Women.

Pieske charged students with writing a poem with the theme of: "I Was Raised By." Pieske admits that the project was immediately met with skepticism, but the nervousness ramped up when students were told that the final piece to the project would be to submit their work to the National Scholar Society's poetry contest.

"There were feelings of nervousness, especially when I told them about the contest," Pieske admitted. "It can be difficult to put vulnerable thoughts out there, but it can also be very validating to have other people read that."

Students began working on their poems with classmates and what transpired was what he hoped he would see in his classroom, a community that encourages and accepts one another.

After a few weeks of anticipation, Pieske received some exciting news. Three of his eighth-grade students, Kylie Swanson, London Richied and Melanie Ross, out of thousands of submissions, were selected to be published in the 2019-20 version of the Award-Winning Young Writers of America anthology.

Pieske announced the news about the winners in front of the entire class to a lot of big smiles.

"The class erupted into applause, it was amazing to see the support from their peers," Pieske said.

He gave Swanson, Richied and Ross the opportunity to read their poems in front of the class and when they kindly declined, he asked to read them because he was so proud of their work.

"Not every student won, but everyone in the class played a part in helping others win because they helped create the environment that allowed those that did to do so," Pieske said. "They were all supportive of each other's work and each other as a human being after learning about their journey's, together."

Since the project, the atmosphere in Pieske's classroom has changed, with increased classroom participation and peer to peer support but it also helped his students understand the power of creative expression.

"We are trying to create healthy outlets for students to process different experiences," Pieske said. "The overall idea of this project was to give them tools and strategies to work through barriers and thoughts that might be difficult. Giving them a journal as an outlet turned out to be a therapeutic strategy."

In addition to being published, Swanson, Richied and Ross were automatically entered to win additional prizes, which they will learn about in April.