Return to Headlines
Anoka High School senior Gabe St. Hilaire honored for bravery by city of Coon Rapids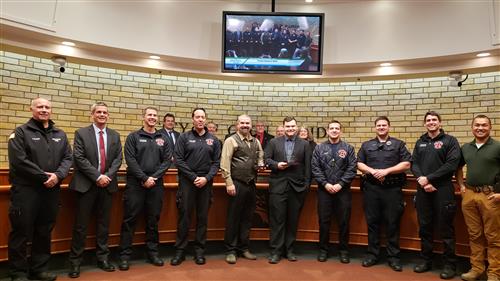 (01/23/2020) Getting credit for saving a life is no small thing. The act itself requires bravery and courage, selflessness, and most of all, being at the right place at the right time.

On Sept. 28 of last year, Anoka High School senior Gabe St. Hilaire and his father, Todd St. Hilaire, were in the right place at the right time.

According to Coon Rapids Police Capt. Tom Hawley, the two came across a one-vehicle crash along Highway 10 at Foley Boulevard. It turns out a 64-year-old woman had driven off the ramp and traveled about 100 feet into the ditch and a small swamp. Before police arrived, Todd and Gabe waded into the cattails and muck, and toward the car, which had begun to smoke. The two helped the woman from the vehicle, which a short time later, burst into flames.

"If not for the immediate action (they) took, it's likely the victim would have perished in the fire," Capt. Hawley said. "(They) clearly helped save the life of another person."

On Jan. 21, the two were presented with the Coon Rapids Citizen's Award of Merit by Capt. Hawley and the Coon Rapids City Council for their actions — the highest honor a civilian can earn from the city.

"I think it's kind of cool that we helped save someone," Gabe said. "It's a really good feeling knowing that we helped save someone."

Gabe's mom, Jamie, was also in the car, and called 911 as her husband and son rendered help. Meanwhile, Todd, upon stopping along the roadway, didn't expect Gabe to pitch in.

"I simply headed off to assess the situation and see how I could help," Todd said. "Gabe did not hesitate, and was right there through everything. I am thankful that he was able to help, and I am so proud of how brave he was for stepping into the unknown, all while keeping his wits about him. I'm a very proud dad."

While in the cattails and water, Gabe said there was a moment when a bang and a flash came from under the car hood. That's when he and his dad realized the time to move was at hand.

"Once she got out of the car, we helped keep her steady," Gabe said. "We didn't know what was going on, but she was out of it. But she could walk, so I held one arm and my dad held the other, and we lead her up the hill (to safety)."

Jamie said it was a huge moment for Gabe, who has Aspeberger syndrome, and one that may have been years in the making thanks to seven years of taking the Essential Communications class during his school career.

"He has really been able to put himself in situations that previously would have caused him to shut down, freeze, or hesitate," Jamie said. "In this situation, he didn't hesitate, he didn't second-guess, he just followed his dad down to the smoking car, and was a crucial part of the decision-making, and helping the driver out of the car."

For his part, Gabe said he never really considered it to be a scary situation until later. "I was completely calm and helping with what was going on," he said. "I didn't really realize until later just how close we were to it being really bad. The car went up in flames as we were walking out."

Jamie said the entire experience was a little eye-opening for her. "I am so very proud of him," Jamie said. "As a parent, there is no better feeling than knowing your child has grown into an amazing human being."

As for the City Council meeting, Gabe said it was great to meet all the first-responders who helped out — he hadn't had a chance to do that. He also was happy to have had a chance to hear an update from the victim, who is doing well, according to Capt. Hawley. He said she is thankful Gabe and Todd were there to save her.

Watch the Coon Rapids City Council meeting where Gabe and Todd are recognized (starting at 7:03), or check out the Citizen's Award of Merit proclamation on the Coon Rapids Police Department's Facebook page.