Return to Headlines
Grad spotlight: Coon Rapids High School grad turns passion for fishing into rewarding career
(02/07/2020) Whether on open water or an ice-covered Minnesota lake, you'll find Matt Johnson chasing his passion — and just about any species of fish. A 2001 graduate of Coon Rapids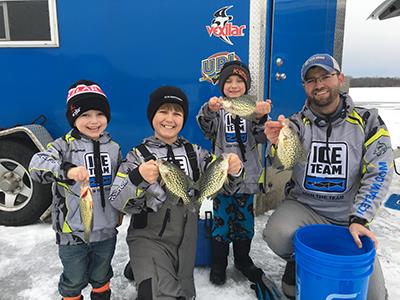 High School (CRHS), Johnson took a childhood hobby he shared with his father and turned it into a career.

A professional angler by trade, Johnson has quite possibly one of the most unique workplace settings out there — spending the majority of his time in the great outdoors.

"For whatever reason when I was a kid, I just had this burning passion to fish," Johnson said. "My dad would plan a date for us to go fishing and I would set out all of my lures on the freezer in our basement and start planning everything I was going to use."

Growing up without a boat in the family, Johnson and his dad made most of their fishing adventures from shore, finding all of the local hot spots such as Crooked Lake in Andover and Cenaiko Lake at the Coon Rapids Dam Regional Park to name a few.

By the time he made it to middle school, Johnson saw a big opportunity when it came to the sport of ice fishing.

"We fell in love with ice fishing because once the lakes freeze, it's a level playing field," Johnson said. "We didn't need a boat, so we started to build our ice fishing arsenal."

They started out with a hand auger in year one before purchasing a portable fish house, followed by a lantern and heater in year two. From one year to the next, with technology advances and a burning passion to find and catch more fish, the equipment upgrades continued.

Wanting to learn more about the latest and greatest products, while also learning from some of the great fishing minds in Minnesota, Johnson started attending the St. Paul Ice Fishing and Winter Sports Show in 1997 and it was there where he was introduced to Dave Genz, one of the biggest names in ice fishing.

"I was a freshman in high school when I met Dave Genz for the first time," Johnson said. "He gave me a stocking cap and an Ice Team pin, and encouraged me to keep working hard on my fishing."

Fast forward to his sophomore year at CRHS, Johnson wrote an essay about what he wanted to be when he grew up.

"You know what I wrote about?" Johnson said. "I want to be a part of the Ice Team someday."

Johnson cut his teeth in the profession through hard work and determination, and like any other fisherman, with a little bit of luck. Someday has happened for Johnson as he is currently the pro staff manager for Clam Outdoors and the Ice Team.

"Pretty cool, huh?" while reflecting on what that felt like to set out a dream as a 10th-grader and accomplish it.

Hitting the age of 16 and obtaining his driver's license was a big moment in his fishing adventures, allowing him the freedom to hop in mom or dad's car, whichever was available to him, to get out on the lakes in the winter.

"I borrowed my parents' Pontiac 6000, and after putting so many miles on it, I ended up stranded on the side of the highway on my way home from an ice fishing trip," Johnson said. "I sat there for five hours with all of my fishing gear strapped to the top of the car waiting for my dad to get done with work and come pick me up."

Johnson found numerous fishing buddies in the hallways at CRHS and the trips began to pile up. Making friends through the sport of fishing, and on the playing field helped shape Johson's remaining high school years, eventually landing a scholarship to play soccer at Bethany Lutheran College in Mankato.

He was a talented soccer student-athlete at CRHS, while also participating in the US Youth Soccer Olympic Development Program, competing for a shot to be selected for international competition. Through friendships at school, another unique opportunity presented itself to Johnson, he decided to join the football team his senior season as a kicker.

Hoping to focus on his soccer, Johnson declined on multiple occasions to join the football team before deciding one game into what would be his senior season to give it a try.

"The first time I put on football pads was my very first game, in the second game of the season against Anoka," Johnson said. "I think I went out there with my shoulder pads on backward."

Johnson ended up being a key member of the Cardinal football team that season, making a lot of big kicks and memories that will last a lifetime, on a team that ended up just one win shy of a state tournament berth.

"Some of my biggest idols growing up were teachers and coaches, Jeff DeJoy and Jason Jacob," Johnson said. "A lot of the people I idolized were my teachers, and that's what I wanted to do when I went to school. When you have good teachers, you don't forget that."

While attending Bethany Lutheran, Johnson developed a love for math and had plans to be a math teacher and a soccer coach, but that burning passion to get out and fish still existed. Upon purchasing his first boat, he recalls getting up and out on the water early in the morning, only to race his way back to Mankato just in time for class.

"I started guiding in Mankato and ended up convincing a friend of mine to guide with me, just so I had someone to fill trips so I didn't have to say no to anyone," Johnson said. "I was a full-time college student and would come riding into campus with my boat attached to my truck, and the next thing you know, I have professors lined up looking to go out on guided trips."

It was during his college years, as he turned to a mass communications major, when Johnson came to the realization that the internet and social media would be a big asset to him and his career as a professional angler.

"Being a good writer and a good communicator in the fishing business puts you on the map," Johnson said. "Having those skills helps catapult you to the top of the other 10,000 guys who wanted to make a living in fishing."

He began writing for FishingMinnesota.com, which is an online fishing forum where the online chatter was happening before the likes of Facebook. His articles began getting published all over and his popularity in the fishing world began to take off.

"Everyone was on the online forums," Johnson said. "I was asked at a young age to be a moderator for a chat, and the next thing you know I was being asked to go to events and then organize events. Before you know it I was the pro staff coordinator for that website."

Johnson would bring in other professional fishermen and help them fine-tune their craft and speaking engagements. Getting himself out in the fishing community helped sponsors become aware of him and he picked up his first sponsorship with Crestliner boats, and Mr. Twister, who is still with him to this day.

At the age of 20, Johnson was traveling all over the state representing sponsors such as Clam Outdoors, Vexilar, and Gander Mountain, who hired him to give fishing seminars at all of their metro locations.

"I was giving seminars on how to catch bluegills, fishing for bass, and even rigging a boat," Johnson said. "At this point, I was obsessed and after two years of playing college soccer, I realized that my passion and my future were in the sport of fishing."

In 2003, he created his own website, mattjohnsonoutdoors.com, before developing the Ultimate Panfish League (UPL), which is the longest standing ice fishing circuit in the country. After the early success of his website build and the UPL, Johnson was devoting every minute of every day building his business.

Johnson played a big role in many of his current employers or sponsors having a presence on social media.

"In 2008, nobody wanted anything to do with social media in the fishing world," Johnson said. "I remember people laughing at me and telling me social media wouldn't last, and today, fishing is all over social media."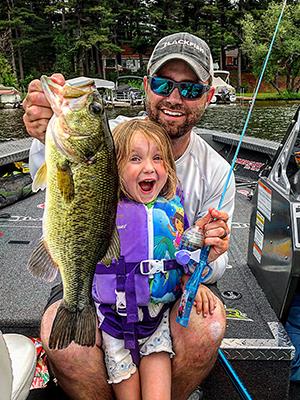 He got involved in any way he possibly could, filming online fishing shows and ended up getting hired by a sponsor, Thorne Bros in Blaine, where he spent most of his time when he wasn't on the water.

During a UPL event in 2012, Johnson was approached by the president of Clam Outdoors, who offered him his dream job, the manager of the Ice Team.

He now manages over 620 professional anglers across the United States and Canada, for the Ice Team, Blackfish, and All-Terrain Tackle while still taking clients on guided trips both on open water and on the ice.

Of all the titles he owns in the fishing world, Johnson said the title of "dad" is his most cherished of them all. He and his wife Tara, a 2003 CRHS graduate, have four children, Jack (11), Ben (8), Brody (6) and Callie (4). And believe it or not, fishing is still very much a family affair for Johnson, who got his start chasing fish alongside his dad.

His oldest son, Jack, is a member of the Junior Ice Team and competes on a youth fishing team, led by none other than Matt.

"You always hope that your kids will like the things that you like," Johnson said. "None of my kids are as passionate as I was about soccer or sports, but luckily they fell in love with fishing. Without their support, I wouldn't have been able to pursue my passion, which just so happens to also be my work."