Return to Headlines
Artistic display of Maya Angelou poem at CRMS celebrates Black History Month
(02/19/2021) With students returning to the school building in the hybrid learning model in February, Coon Rapids Middle School (CRMS) art teacher Alissa Smith wanted to make sure Black History Month was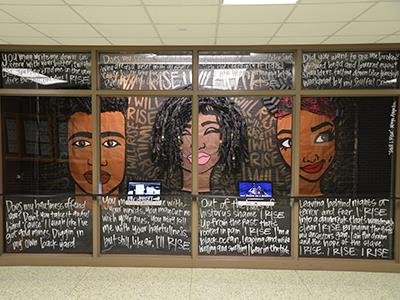 celebrated and that students felt represented.
Smith was inspired by Maya Angelou's poem "Still I Rise," a powerful message about Angelou's personal background and her message of survival and hope.
"I always want to make sure that our students are represented and that they see themselves reflected in the school and in our hallways, because they deserve to be," Smith said.
Smith wanted something in the school for the students to be proud of when they saw it or read the poem. Trying to make something that was relatable to them and the Angelou poem was the inspiration for the art.
Down one of the main hallways just past the main office at CRMS is where the artwork is displayed, and this display is a can't miss piece. When working on the project, Smith planned to have the poem displayed prominently on the back wall behind the glass, but as the project developed, she knew she needed the words to stand out.
The artwork features the faces of three African-American teenagers surrounded by the phrase, "Still I Rise" and the words of the poem come to life written on the windows looking into the display.
As students returned, starting with sixth grade students Feb. 2, Smith said the artwork was enjoyed by all as students stopped on their way to class to take selfies in front of the project.
Smith has been responsible for the display areas in the school, using the spaces to help create areas that represent the students at CRMS. For her latest display, she received some help from Emmelia Faltin, a student teacher at CRMS finishing out her degree from Bethel University.
In September, Smith created a display for Hispanic Heritage Month and is currently planning another for Women's History Month, which begins in March.
"Throughout the year, that has been my inspiration, finding ways to reflect our students in different ways," Smith said.