Return to Headlines
Parents of district Latino students participate in program to strengthen relationships with schools
(03/12/2021) Over the last three months, English Language (EL) Latino parents have attended seven virtual sessions to participate in Education: Our Best Legacy, a program aimed at strengthening the interaction and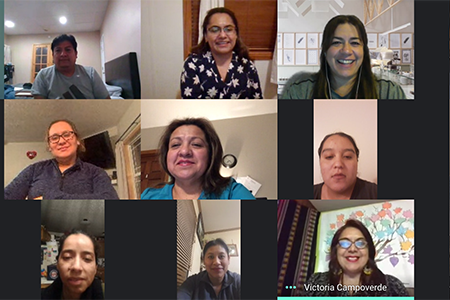 partnerships between parents/guardians and their students and their students' schools.
This school success program was offered in alignment with the Anoka-Hennepin Equity Achievement Plan, a coordinated effort to promote high academic achievement for all students and eliminate predictable gaps amongst student groups.
These online sessions also aimed to increase parents' knowledge and skills to navigate the U.S. school system, build self-efficacy to help their children succeed in school, and increase the number of students graduating from high school and continuing on to higher education.
Each class was designed to last about two hours, covering nine content areas:
Expectations: Children learn better when parents have clear and reasonable expectations.
Structure: Children learn better when parents provide a regular routine.
Learning: Children learn better when they have opportunities outside of school.
Support: Children learn better when parents regularly give them verbal support and praise.
Relationships: Children learn better when they feel safe and accepted at home and at school.
Modeling: Children learn better when parents and other adults set good examples.
How to navigate the school system: This 10 Education: Our Best Legacy for Latino Families Facilitator Guide Introduction leaves them vulnerable and makes it difficult to provide assistance to and advocate on behalf of their children's success in school.
How to help their children graduate from high school and seek higher education: Latino parents often cite "better education for their children" as one of the reasons they immigrated to the U.S. They want information on how these goals can be achieved.
How to achieve self-efficacy: Since Latino parents often grew up in other countries, they do not feel that they have the right tools to help or support their children to succeed in the U.S. educational system and culture. They do not feel confident enough in themselves to be able to help their children.
Anoka-Hennepin EL cultural liaisons Kari Xiong-Carlson and Victoria Campoverde partnered with Silvia Alvarez and Gabriele Burk from the University of Minnesota Extension to provide this resource to district parents.
"It is important for parents/guardians to feel connected with teachers and staff in the school because they can make a good partnership with them and they can support together in their student school success," said Campoverde. "Having this affinity group space gives parents the opportunity to feel comfortable, confident and it empowers them by allowing them to express their needs in their own language and have valuable information from the staff."
Parents also had the opportunity to hear from guest speakers, including school administrators, social workers, EL teachers, student achievement advisors, school counselors and technology. A local college admission advisor was also a guest to speak with parents about higher education and scholarship opportunities.
"We want our families to be aware of the resources available to them and know the staff they can reach out to if needed," Campoverde said. "This program gave parents/guardians the confidence to contact the school staff and ask for information and support."
This pilot program will be used to create programs in the future for English-speaking and other languages as well. This was the first time this type of program has been held virtually.
"This program opens up new opportunities for parents and students," Campoverde said.