Return to Headlines
District's retail boutique, Say It Again, reopens to students and shoppers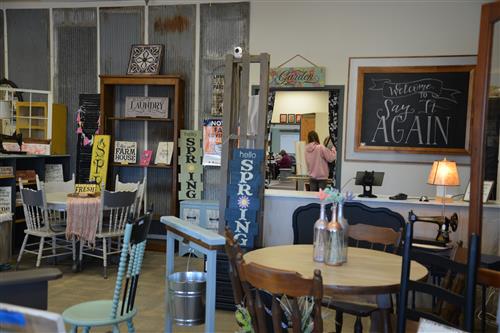 (04/02/2021) Students and staff are back in business at Anoka-Hennepin's very own retail boutique, Say It Again. Special education students have returned in person to practice on-the-job skills and doors are once again open to shoppers. The shop had been closed for several months due to COVID-19 restrictions.
Say It Again is open to the public to shop home decor, gifts and furniture refurbished by students. Behind the scenes the store provides hands-on experience for special education students who are part of the district's work-based learning program, TEAM (Teaching Employability through Assessment and Manufacturing). TEAM is designed for high school and transition-aged students who need additional skills before seeking paid employment. The goal is to help students with special needs strengthen basic work habits.
"It's definitely nice to be back," said Steve Christnagel, TEAM's work based learning coordinator. "The pandemic made their learning extremely difficult because some of these students don't have the skills to process abstract ideas versus the tangible skills they get to practice here."
Behind the retail store is a design lab, classroom and manufacturing shop where students paint, build and repair used housewares donated by the public. The students learn practical skills like point-of-sale systems, inventory and e-commerce order fulfillment. They also practice soft skills that are required on a job site, such as punctuality, workplace safety and taking initiative.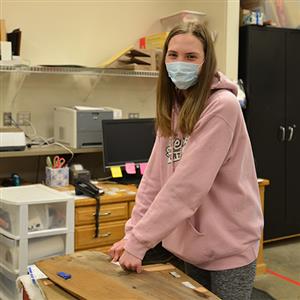 "It gives students a chance to tangibly see how to do processes in business — and see that people want what they've made," Christnagel said. "We definitely see very good growth and progression. Many students go from here into paid employment."
Blaine High School senior, Hailee Sickmann, has worked at Say It Again for two years. She is glad to be back. When customers buy items from the shop it "feels pretty good because we work hard."
"The workers here are very kind, and the customers," she said. "It's fun!"
While the store was closed during distance learning, staff pivoted to online sales launching an e-commerce site for the first time. Proceeds supplement expenses for supplies like paint and tools. Say It Again is located at 13735 Round Lake Blvd NW in Andover. Hours are Monday-Friday from 8 a.m. to 1:30 p.m. except on school release days. Say It Again periodically hosts evening sales hours; the next evening event is Wednesday, April 7 until 7 p.m. Furniture donations are welcome during operating hours.