Return to Headlines
Science student honored by the Minnesota Wild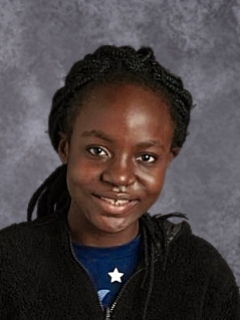 (04/30/2021) When Glendis Asoyang was young she would collect water from a large spring near her village in Africa. The muddy water had to be carried home and then boiled before drinking or cooking. She never imagined that a childhood fetching water would one day lead her to being an official flag bearer for a professional ice hockey team in the United States.
Asoyang moved to the U.S. when she was nine years old. She is now a seventh grader at Anoka Middle School for the Arts (AMSA). She created a science fair project about water filtration that earned the top score in the National Hockey League (NHL) Future Goals Virtual Science Fair among all seventh and eighth grade students in the Minnesota Wild's market. To celebrate the achievement, the Wild invited Asoyang to serve as flag bearer at the start of their upcoming game against the Las Vegas Golden Knights May 3.
"I was blown away!" Asoyang said. "I honestly wouldn't have ever dreamed that I would win this type of competition. I danced and danced all over my house."
Asoyang originally created the project in Jeff Berg's advanced science class at AMSA. Berg invited students to participate in the NHL's virtual science fair. Asoyang shifted the focus of her project for the NHL competition to research water filtration at the Xcel Energy Center.
"I loved the idea that students who loved science and hockey could win prizes risk-free by doing what they love: investigating scientific questions," Asoyang said.
"She has the drive to be interested in the science," said Berg, who observed that Asoyang was more captivated by the scientific research behind her project than the chance to be recognized by a pro sports team. "I'm really proud that she was able to follow through with this project and apply what she's learning to a real world application."
And the real world application is only beginning. Her personal experiences inspired the research. With plans to return to the village where she grew up, Asoyang hopes to apply what she's learned back in Africa.
"I wanted to know what other ways there were to purify and filter water, and which one was superior to the others. And I'm really excited to share my results with my former village folks."