Return to Headlines
Roosevelt Middle School student wins local VFW writing contest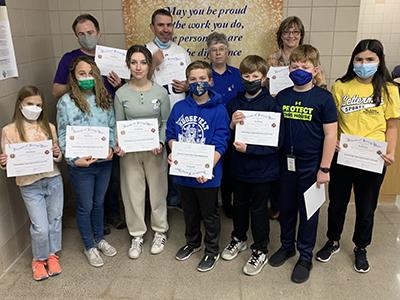 (11/24/2021) Roosevelt Middle School (RMS) sixth-grader Audrey Schwen won a local VFW Patriot's Pen youth essay contest. The contest posed the question, "How Can I Be a Good American?" as the theme for the 2021-22 competition.
In all, seven students from RMS participated in the contest and three of them gathered a top three placing. Schwen won the SGT John Rice VFW Post 6316 (Blaine, Minn.) contest and will now move on to the district level competition.
Excerpt from Schwen's winning essay:
When thinking about this question, "How Can I Be a Good American?", it can be fairly difficult to comprehend at first. Some may answer simply: obey laws, pay your taxes and give back to the community. Those are good basic answers but not good enough.
One of the most important things to consider when pondering what makes a good American is being authentic, honest, and kind. Based on what is happening in the world today, this is needed in today's society. As Thomas Jefferson once quoted, "May I never get too busy in my own affairs that I fail to respond to the needs of others with kindness and compassion." View Schwen's winning essay.
Students who submitted essays:
Rylee Bier (8)
Annabella Brick (6)
Nicholas Duggan (6)
Hank Karsten (6)
Brennan Lancaster (6)
Emmalee Salzwedel (8)
Audrey Schwen (1st Place)
RMS teachers Matt Van Zee, Joe Clausen, and Tammy Gruenwald were all involved with the youth essay contest.
Each year more than 165,400 students in grades 6-8 enter the VFW's Patriot's Pen youth essay contest for a chance to win their share of more than $1.4 million in state and national awards. Each first place state winner receives a minimum of $500 at the national level, and the national first place winner wins $5,000.
The essay contest encourages young minds to examine America's history, along with their own experiences in modern American society, by drafting a 300- to 400-word essay, expressing their views based on a patriotic theme chosen by the VFW Commander-in-Chief. More information about the VFW Patriot's Pen youth writing contest from the VFW website.