Return to Headlines
2021-22 Above & Beyond Award winners announced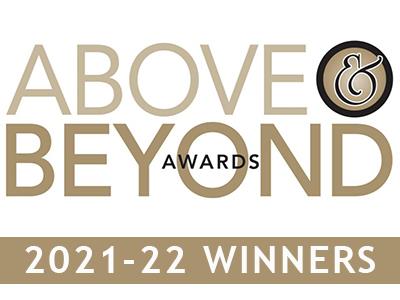 (03/25/2022) Fourteen outstanding district employees have been selected as the Anoka-Hennepin School District's 2021-22 Above & Beyond Award winners.
The winners are:
Taylor Browen - Regional High School, School Social Worker
Jennifer Carls - Mississippi Elementary, School year secretary
Rosanna Chavez Leon - Evergreen Park Elementary, Paraeducator, special education
Kim Corbey - Anoka High School, Teacher, English
Stephanie Diaz-Celon - River Trail Learning Center, Program supervisor
Krystyne Hable-Lafean - Sand Creek Elementary, Teacher, special education
Danielle Harris - Champlin Park High School, Teacher, English
Diane Kilmer - Labor Relations and Benefits, HR Systems Manager
Allan Klemz - Blaine High School, School monitor
James Kulla - Northdale Middle School, Teacher, science
Kelly Kum - Evergreen Park Elementary, Teacher, EL
Stephanie Pogalz - Northdale Middle School, Teacher, math
Tamara Van Voorhis - Rum River Elementary, Teacher, grade 3
Matt Van Zee - Roosevelt Middle School, Teacher, English
The 2022 Above & Beyond Awards ceremony to honor these 14 exceptional employees will take place April 13 at the Educational Service Center (ESC).
The Above & Beyond Awards involve students, staff, parents and community members in recognizing and rewarding Anoka-Hennepin employees — teachers, secretaries, cooks, paras, custodians and others — who consistently go that extra mile so students can be successful. Over 150 staff members were nominated for the 2022 awards, the 25th year of a recognition program in the school district's history.
The Anoka-Hennepin Educational Foundation (AHEF) and Anoka-Hennepin Schools sponsor the Above & Beyond Awards program jointly. Its mission is to recognize outstanding employees for innovation, creativity, caring and commitment. Award recipients were nominated by parents, students and colleagues and were selected by a panel of community representatives, staff and principals.
Award criteria considered included going the extra mile or exceeding expectations in job duties; making an extra effort to support students' learning and well being; developing positive relationships with students, families, and/or community; demonstrating exceptional care and concern for students; developing new ideas to enhance learning, solve problems and/or meet district needs; bringing together ideas and/or resources and/or people to overcome difficulties or challenges; inspiring others to do and be their best; collaborating with outside resources; and working effectively with people of different races, religions, values, attitudes, experiences and customs.
In the coming weeks, watch for articles highlighting each of the award winners and the opportunity to view photos and video from the upcoming award ceremony.