Return to Headlines
Regional High School celebration brings school community together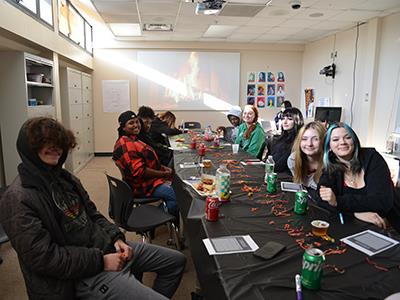 (11/23/2022) A student-led initiative at Anoka-Hennepin Regional High School (AHRHS) modified the school's annual traditional Thanksgiving meal to a celebration of the diverse student population. Knowing not every student celebrates Thanksgiving, the AHRHS Student Voices group was the catalyst for the change, which was supported by the school's equity team and child nutrition staff.
"The change gave us joy because we realized that our voice matters and every student knows that we can make changes," said AHRHS student J-Kwon Paibo. "It brings a really positive energy (to the building). It brings us together, we love each other."
On Nov. 22, students and staff feasted on a menu of tacos, Liberian rice and beans, turkey legs and pumpkin bars. Students volunteered to serve the meal, and the energy in the cafeteria was high. The shift in the meal and celebration happened quickly, and the administration was grateful for the flexibility of the child nutrition staff. View photos from the celebration.
"The tricky part was finding the nutritional content appropriate for the meals," said Jaclyn Ewing, AHRHS child nutrition site supervisor. "The Child Nutrition Department was amazing and open to switching things up this year. I just wanted the students to know that if they don't like something, that their voices could be heard."
Teachers were encouraged to decorate their classrooms and after the meal, the students played a school-wide game of P.R.I.D.E. (Prepared, Respectful, Inclusive, Determined, Engaged) BINGO. The numbers were called over the school's loudspeaker and when a Regional Lion got a BINGO, the students were encouraged to roar their way down the hall to the office for their prize.
Each secondary school in the district has a Student Voices program to give students a voice at the school and district level and is supported by a student achievement advisor.
"We couldn't have made this change if everybody wasn't involved in making it happen," said AHRHS student achievement advisor Stephanie Johnston. "Students were super excited to celebrate the change and they felt heard."