Return to Headlines
Blaine High School: Sara Ho found passion, leadership through service to others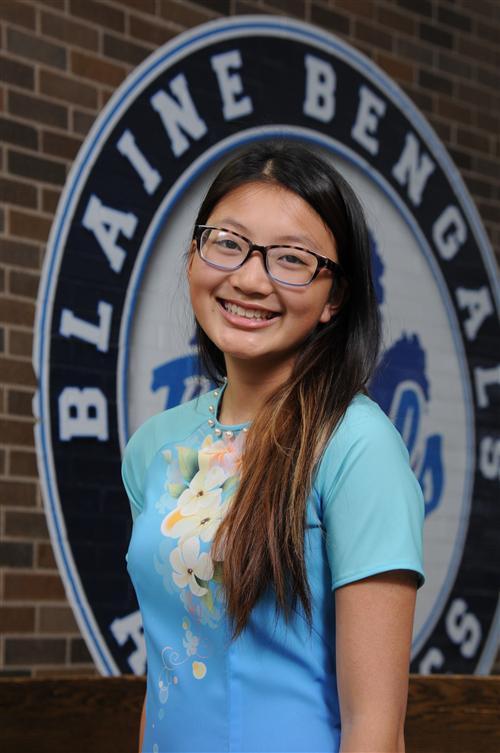 Blaine High School (BHS) junior Sara Ho likes to joke that getting glasses in second grade destined her for "the nerd life." A self-described shy and awkward teen, Ho said she spent much of her young life as a follower, not a leader. But all that changed when she discovered her passion for volunteering.
Ho credits Bengals in Action — the school's volunteer service organization — with helping bring her out of her shell and discovering her true purpose.
"I think I've always just really wanted to help people and help the world and make it a better place, for myself and for others. And that's what I found myself doing when volunteering, and I just fell in love with it," she said. "It sounds really cheesy, but it's my passion to help people and to volunteer out in the community."
In addition to dedicating herself to volunteer work, Ho maintains a rigorous academic schedule: She is enrolled in the PSEO program, which allows her to take college classes for credit at Anoka-Ramsey Community College while still in high school. She is also a member of the National Honor Society, plays on the tennis team, and is a founding member of the school's book club. When she's not at school or volunteering, she works at a before-school program for elementary school students.
So it's little surprise to those who know her that Ho has been chosen as one of this year's Anoka-Hennepin School District Inspiring Students.
"Sara's really a great kid, and I think really impressive," said BHS school counselor Mary Boren. "She has a strong presence. She's a thoughtful and reflective young lady who has a clear sense of direction, and she can manage things well and challenge herself. I just think she's exceptional."
Ho said her interest in volunteering was piqued when she entered high school and saw all the opportunities offered by Bengals in Action, so she started picking the ones that interested her.
"I went to a lot of the Feed My Starving Children shifts, and then I did a lot of elementary school carnivals, which I loved. I love working with kids. Not knowing where to volunteer, Bengals in Action is a great place to start," she said.
Volunteering gave her the confidence to begin seeking leadership roles, which she did through Students in Action, the leadership team of Bengals in Action. Soon she was helping coordinate volunteer opportunities and set up fundraisers.
"I teamed up with book club this year and set up a book drive. I found some great organizations we could donate to, worked with our video announcements advisor to air a video I recorded for it, and we've had great success," she said.
Finding her leadership footing gave her confidence in other areas, Ho said, such as speaking in front of crowds and meeting new people.
"I think I just got more comfortable talking to people and growing as a student, and that's because I found something I'm passionate about," she said. "I think I've started to open up more. I'm branching out more and more."
Ho said she's thinking of translating her interest in helping others into a career in the medical field, as possibly a psychiatrist, pediatrician, or midwife. In fact, she will be a volunteer at Mercy Hospital this summer.
"I'm a pretty good student, and I volunteer. I think that's my trademark. But it's a good thing to do," she said. "I might be a nerd and volunteer, but that's me. And if that's what I'm known for, then I'm proud of that."
Inspired by Time magazine's Person of the Year, the Anoka-Hennepin School District celebrates students who are inspirations and examples of hard work, determination, resiliency, and leadership. One student from each traditional and alternative high school are selected for the district's Inspiring Students banner collection.

Each high school and the district's central office buildings will display the banners throughout the school year. A new student will be selected from each high school every year.