Return to Headlines
Anoka-Hennepin Regional High School: Katie Gitzen has never wavered from achieving her goals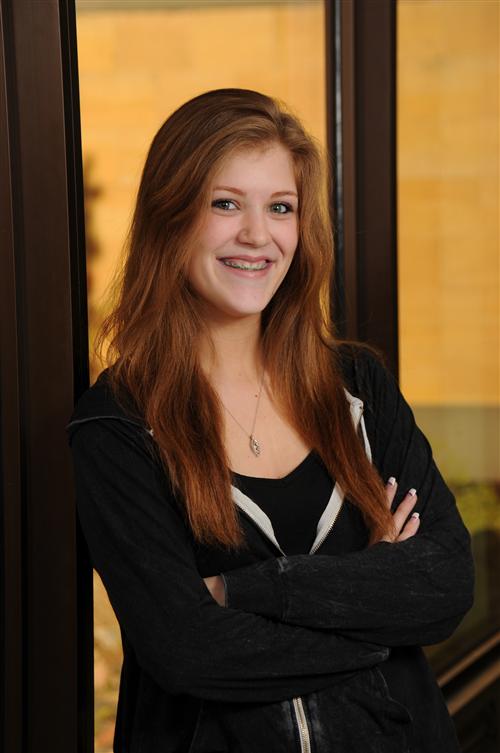 Katie Gitzen's road in life has been anything but smooth. But she has pushed through every obstacle placed in her path and on June 1, 2017, emerged triumphant in her cap and gown, becoming the first person in her family to graduate from high school.
Staff at Anoka-Hennepin Regional High School (AHRHS) were so impressed with her achievements they invited her to speak at graduation.
"She started here as a 10th grader and her growth as a student and student leader has been phenomenal," said Megan Hendrix, an administrator at AHRHS who is also Gitzen's former English teacher. "She never took the easy road. She always took the road less traveled if it meant a better ending for her. And she's not afraid of hard work."
Gitzen was chosen as one of this year's Anoka-Hennepin School District Inspiring Students because she has shown remarkable perseverance in the face of numerous setbacks.
Her early life was marked by family struggles, including time spent in foster care, followed by academic and social struggles when she entered high school. Gitzen originally attended a larger school, but felt overwhelmed by the size and social pressures and began failing her classes.
"I basically failed my whole freshman year," she said. "I decided that wasn't where I wanted to be."
Gitzen transferred to AHRHS her sophomore year and was able to find her footing thanks to smaller class sizes and the school's more individualized approach. She blossomed under the attentive eye of teachers and staff, and said she liked the way teachers interacted with students and the way students interacted with each other.
"The staff themselves are really good people – they really care about you as an individual. They motivate you a lot here," she said. "They really helped me change my attitude. I grew, I got over it, and I passed all my classes that year with As and Bs. I definitely turned my life around."
But just as she was thriving in her new environment and wrapping up her junior year, Gitzen got what at the time felt like devastating news: she was pregnant.
"I cried for the first week," she said. "There was a lot going through my mind: me not wanting to be a mom, me wanting to be a mom, me not wanting to give up my life, not being able to go out and enjoy the rest of my teenage years."
Her dream of going to college and living in a dorm like other students suddenly felt out of reach.
"I never imagined myself being a teen mom. I was always like, that will never be me. I'm going to graduate, I'm going to college," she said. "So when I found out I was, I didn't want that to be what I was known for. I didn't want people judging me."
Initially secretive about her pregnancy, Gitzen ultimately announced it on Facebook when she found out she was having a little boy.
"And it turned out everybody was way more supportive than I thought they were going to be," she said.
In February she gave birth to a healthy baby, less than four months before graduation. And she only missed a total of two weeks of school before returning and testing out of her economy and English classes. She has maintained her good grades throughout, and in fact had earned so many credits as a junior that she was already way ahead coming into her senior year.
"My attendance has been basically perfect this year. So I'm really proud of myself for that," she said.
She also has a job and said she finds a sense of pride in having some financial independence and being able to provide for her son. While her mom helps out with childcare, she admits it's a challenge to juggle everything – school, work, the baby – and still find time for friends.
"Sleep is basically non-existent right now," she said.
But she has no intention of giving up on her goals. Gitzen plans to attend Anoka-Ramsey Community College next year and get her generals out of the way before deciding where to complete her degree. She's thinking about majoring in English, and maybe ultimately working with children in need, inspired by her own background.
Gitzen said she is motivated to keep going because she has seen firsthand how difficult life can be without an education.
"I've been told my whole life to get my education, because it's so important," she said. "I'm pretty confident in making my way through everything. I know it will be difficult, but I'll get there."
Inspired by Time magazine's Person of the Year, the Anoka-Hennepin School District celebrates students who are inspirations and examples of hard work, determination, resiliency, and leadership. One student from each traditional and alternative high schools are selected for the district's Inspiring Students banner collection.

Each high school and the district's central office buildings will display the banners throughout the school year. A new student will be selected from each high school every year.