Return to Headlines
Anoka High School and community partners offer networking, hands-on opportunities for students to explore trades career pathways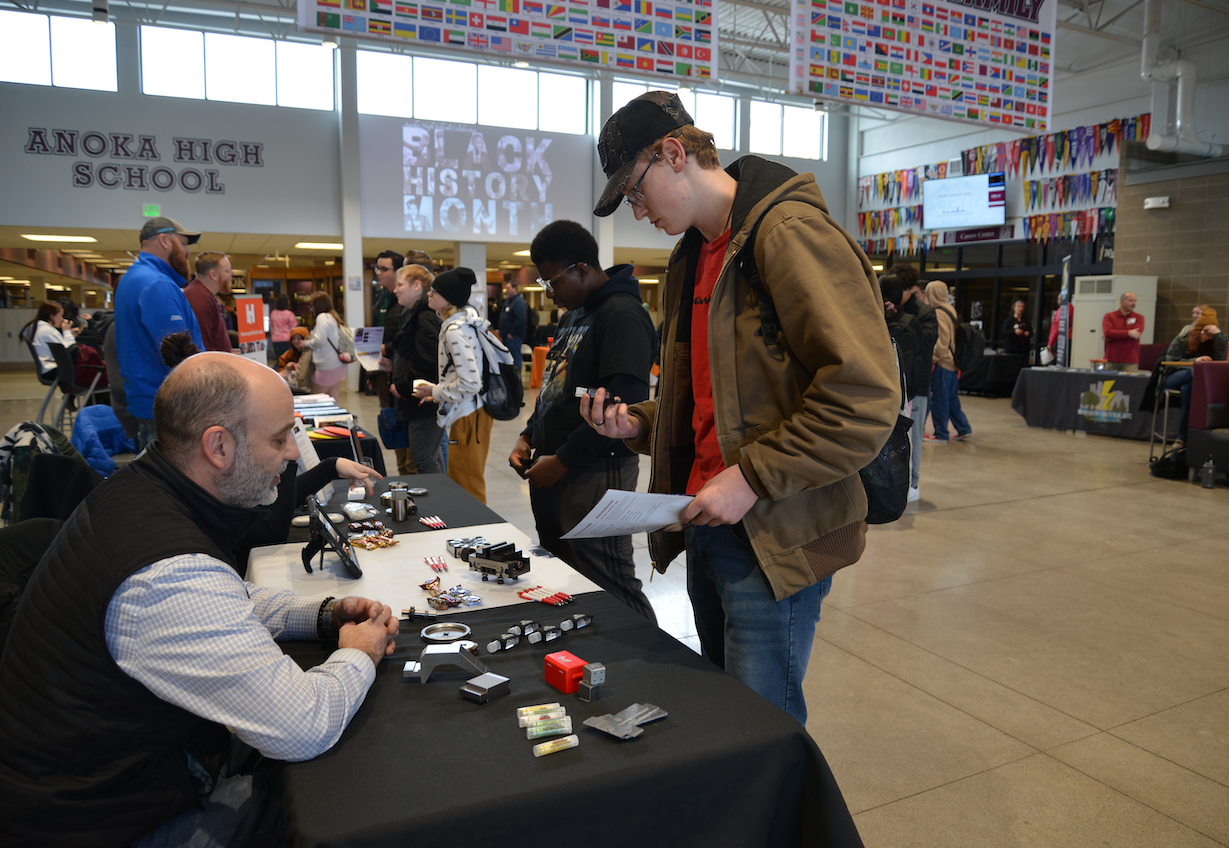 (02/03/2023) Thanks to partnerships with the Anoka Area Chamber of Commerce, Connexus Energy, NTM Inc., and Dynamic Group; students at Anoka High School (AHS) made connections with local technical colleges, labor unions and employers, and experienced hands-on job skills in virtual reality scenarios in a mobile learning lab on Wednesday, Feb. 1.
"We want to give students a lot of options to explore what it may look like to work right away or discover real opportunities in the community to apply some skills that they may already have, as well as possible pathways to technical colleges or on-the-job training that will lead them to a career," Colleen Neary explained.
Neary, the College and Career Specialist at AHS; and Jill Luoma-Overstreet, the Science, Technology, Engineering, Arts and Mathematics (STEAM) curriculum integrator; partnered with the Anoka Area Chamber of Commerce to bring the celebration to the school.
"It's a community effort, and we want students to feel confidence around making a decision about their future," said John LeTourneau, director of manufacturing for the Anoka Area Chamber of Commerce.
There are 200,000 jobs in the county, 20% of which are in the manufacturing field. The current median wage of jobs in the county is $50-55,000 a year, while the median wage for manufacturing jobs in the community is $89,000 a year, LeTourneau shared. "By exposing students to these opportunities, they can get a job, a house, start a family and positively impact the community that they grew up in - without college debt."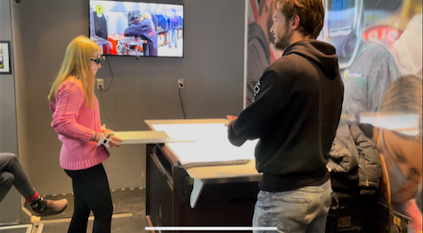 Representatives from local businesses, technical schools and labor unions were on site for the "Trades Fair," which all AHS students could attend before, during and after their lunch period. Senior Sam Hanks said, "This is helpful, because kids don't always know what they want to do after high school and this is kind of the same as when the [four-year] colleges come in."
"School hasn't always been easy, but I know that I want to work," said Christian Johnson, a junior at AHS. "Today, I was able to learn a lot and start making plans for the classes that I want to take [in high school] next year so I can prepare for the trades. There are a lot of things to consider." Johnson said he wants to explore welding and carpentry in the future.
Students with specific interests in industrial technology classes, or enrolled in the STEAM or AVID programs were invited to try their hand at woodworking, welding, carpentry, commercial painting and excavator driving - using driving simulators, an Oculus, 3-D video screens, and augmented reality (AR) scenarios in a full-size trailer - known as the Big Ideas Mobile Learning Lab.
"A lot of kids don't want to think about the future, because it can be stressful - but this was right here - in your face, and it was really cool to experience it," said Daniel Siede, a senior. "Ms. Neary gave me brochures, I was able to talk to people about trade schools, and it's been a huge help."