Return to Headlines
Tim Feine, Blaine High School, class of 1993, assistant principal at Andover High School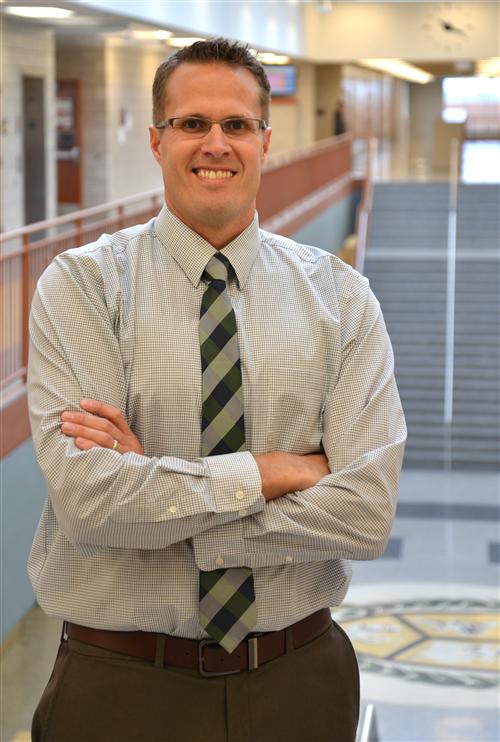 Deep inside the heart of Blaine High School (BHS), just outside the weight room, Tim Feine's picture still hangs on the wall. In 1992, as a junior, he won the state title in the triple jump.
"Students, they'd see my photo down there — just this skinny kid back then — and then the next day out on the field joke about it," Feine said. "It's unique — not too many people end up teaching or coaching at the school they graduated from."
Indeed. Feine, who graduated from BHS in 1993, has spent his entire professional career preparing students for life in his home school district as a teacher, coach, and now assistant principal — and that's something he's proud of.
"Anoka-Hennepin is all I know. It's where I went to school and it's where I've taught," he said. "And I take great pride in that. This is a great place for kids to go to school. My own children go to school here."
Growing up, Feine went to elementary school at Sand Creek and Jefferson elementary schools, then middle school at Roosevelt, and BHS for high school. As an educator, he began at Fred Moore Middle School in 1998, and has also worked at Roosevelt Middle School, Anoka High School and Andover High School (AndHS), where Feine is currently an assistant principal. He's also spent time as a football, basketball, and track coach at BHS and also at AndHS.
As luck would have it, he began working in Anoka-Hennepin right after graduating from the University of St. Thomas in St. Paul with a teaching degree and health education license.
"My senior year of college I got an opportunity to coach track at BHS," he said. "The following year, after I graduated with my degree, I was hired to coach football there too. So I figured I needed to find something here, and as luck would have it, I got hired at Fred Moore."
While the foundation for teaching was always there, Feine said he wasn't necessarily interested in it right away. His first couple years in college, he was more interested in studying to be a physical therapist for sport-related injuries. He was a football player at St. Thomas, and was a part-time athletic trainer at the university, too.
"There was this part of me — I always wanted to coach," he said. "And in all of my jobs up to that point, I was working with kids, including working as a bible camp counselor in the summer."
So midway through his collegiate career, as many students do, Feine switched majors. "I decided I wanted to work with kids and got into health education," he said.
Getting a chance to work in Anoka-Hennepin was a blessing, he said. "For me, it was exciting to have the chance to give kids the same great experience I had," Feine said. "I really enjoyed my time in school, and so I was passionate about encouraging students to pursue opportunities outside of the classroom and trying to get them involved."
And working with the people who just a few years before were teaching him? "Sure, I think it was weird having some of your former teachers now as your colleagues, but it was also really great," he said. "Dave Nelson (former BHS teacher and head football coach) and Shannon Gerrety (former BHS head football coach and current activities director) — working with them as colleagues and as coaches and seeing the way they worked with people and motivated kids ... I think they were a good example of how to do things the right way and having them as colleagues was awesome."
After spending a number of years in the classroom, Feine earned his master's degree and is now an administrator. He no longer coaches, something he acknowledges he misses, but his new role allows him to be a leader.
"It was a natural fit for me. I was a team captain and a coach and a department leader, so I've always gravitated toward being a leader," he said. "I'm comfortable helping shape the big picture, and it's exciting and rewarding."
As for switching his major — Feine said he's pretty happy he did.
"I have a pretty cool job. As educators, we have the opportunity to positively influence kids, and aside from their parents, others can't say that, and it's a big deal," he said. "We can help children see a sense of their own future, and see the best in themselves, and equip them with the skills to make good decisions. How great is that?"