Return to Headlines
Eric Gieseke, Anoka High School, class of 1984, Burnsville Police Chief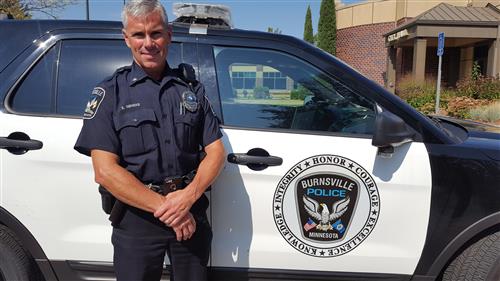 From his start as "McGruff the Crime Dog" through his rise to Burnsville's chief of police, Eric Gieseke credits the teachers and mentors he met during his time in the Anoka-Hennepin School District with setting him up for success.

"If I hadn't met these people I'd probably have ended up in the back seat of a squad car instead of the front seat," he said.

Gieseke, who grew up in Brooklyn Park, said he knew from a very young age he wanted to get into law enforcement. He said he was very grateful for the officers that would respond to repeated calls of domestic violence at his neighborhood friend's home.

"I always remember feeling very appreciative that the cops were showing up to help my friend and her family. That really left an impression on me," he said.

An officer he met while at Jackson Middle School (then Jackson Junior High School), Craig "Andy" Anderson of the Champlin Police Department, was a huge influence, he said, helping put him on a good path when he was a disruptive student who was asked to leave class on more than one occasion.

"He would always stop at the schools and get to know the kids," he said. "One day I was sitting in the hallway after being kicked out of class, and he suggested that maybe I change my ways and who I was hanging out with."

Anderson also suggested that Gieseke join a youth gymnastics program he had founded, called Andy's Tigers. Gieseke took to it immediately, and went on to join the gymnastics program at Anoka High School, where his coach — teacher Rollie Neist — was another influential person in his life.

"He was a coach and a mentor through high school, and that's what really got me through high school," he said. "I went on to be second-place all around sophomore year, and my junior year I was state high school gymnastics all-around champion. I also took first place in floor, horse and rings, and placed in other events."

An injury in his senior year kept Gieseke sidelined, but after graduating from Anoka in 1984, a gymnastics scholarship allowed him to go on to compete at the University of Wisconsin - Madison, where he got his degree in psychology before getting a certificate in law enforcement from Metro State University.

In 1989 he was hired by the Burnsville Police Department as a community service officer.
"Back then we were called police cadets," he said. "I literally started at the bottom. I did everything from washing the squads to getting donuts for the chief. I was even McGruff the Crime Dog — we took turns wearing the outfit and visiting schools."

That experience was invaluable, he said, giving him an opportunity to get his foot in the door and learn at the most basic level. In 1991 he was promoted to police officer, and Anderson was one of the first people he called.

"I told him, 'I wouldn't be here if it wasn't for you. I'm that dumb kid in the hall who got kicked out of class.' And he remembered me," he said.

Gieseke worked the night shift for 12 years, serving as a field training officer and a SWAT team member before being named Minnesota's Police Officer of the Year in 2003, and earning a promotion to sergeant in 2003 and captain in 2006. In 2010 he was put in charge of researching and implementing new body camera technology, for which he was honored with the John R. Finnegan Freedom of Information Award last year.

"At that time only two police departments in the country were experimenting with them, and we were the first in the state to deploy them. We also did some work on recent laws and legislative changes that took place as a result of some of our experiences that we were able to share with other agencies," he said. "I may have gotten the award, but that just represents the fact that we have some really amazing people here."

Gieseke was named Burnsville's police chief in 2012. He said many of the skills he learned from gymnastics were transferrable to his law enforcement career, including discipline, teamwork, personal accountability, and responsibility.

"Every step of the way, there's a component of what I learned in the school district that's really afforded me the opportunity to be successful," he said. "I just really appreciate teachers and mentors. They really make a difference in people's lives. I don't think they always realize at the time the impact they have on people."

Gieseke said he has kept in contact with some of his teachers and mentors from his school days, including Anderson and Neist, and this past year he got an email from his first grade teacher at Monroe Elementary School in Brooklyn Park after she saw him on the news, telling him she was proud of what he was doing.

"It's been a wonderful career. Really amazing," he said. "A lot of fingerprints are on me. I wouldn't be where I am today if I didn't have those people in my life from Anoka."