Return to Headlines
Maddie Rooney, Andover High School High School, class of 2015, Olympic gold medalist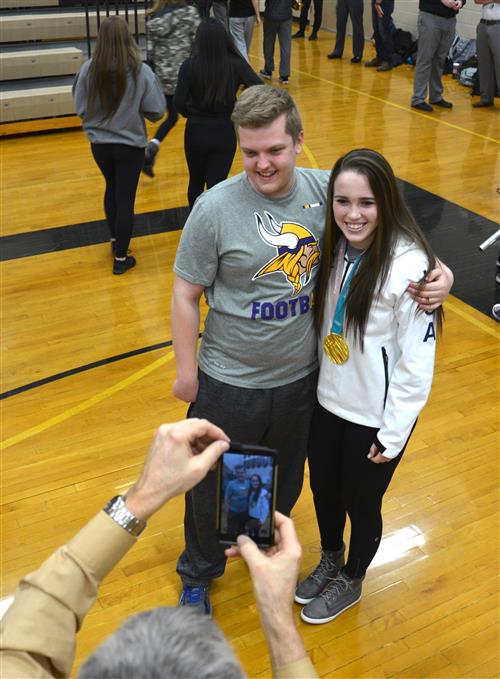 Maddie Rooney, a 2015 graduate of Andover High School, said ever since she was a little girl she dreamed of playing hockey in the Olympics. But even in her wildest dreams she never imagined a scenario like the one that played out in Pyeongchang in February, when she made the game-winning save in a nail-biting shootout against Canada, earning the U.S. women gold in one of the greatest rivalries in all of sports.
That game ended Canada's 20-year winning streak and will likely go down as one of the most exciting in Olympic history.
Rooney said she's been asked a million times what that moment felt like, but all she remembers is her teammates sprinting at her and then "everything going black" as they piled on top of her.
"It was just an indescribable moment," she said. "And then having the medal hung around my neck was such a proud and humbling moment because it was something I had dreamed about my whole life."
Rooney started her hockey career in Andover at the age of 5 as a forward with a boys youth league. She said her parents encouraged her to try several sports, including soccer and softball, but hockey remained her favorite. At age 10 she tried her hand at goaltending for fun and immediately loved it.
"My parents didn't want me to be a goalie because it's more on the expensive side, but once I tried it in practice I knew it was what I wanted to do," she said.
Rooney continued to play in boys hockey leagues while attending Crooked Lake Elementary and Oak View Middle School, and even led her peewee and bantam teams to the state tournament. She then played for the girls hockey team for two years when she got to Andover High School.
With her Olympic dreams and college career in mind, Rooney made the decision her senior year to try out for the boys high school hockey team.
"I had the opportunity to play girls hockey growing up but I always chose to play on the boys team just to challenge myself, and switching to the guys team my senior year was the ultimate challenge to myself at the time. I thought it would be the best way for me to get prepared for college," she said.
Rooney tried out for the team and made it, and proving to be the better of the two goalies, quickly earned herself the starting spot. She credits Andover High School boys hockey coach, Mark Manney, with giving her that chance and said he remains one of her biggest influences.
"The fact that he believed in me and gave me the opportunity meant a lot to me, and he's continued to support me throughout my college career and was one of my biggest supporters at the Olympics," she said. "He's just been a great person to look up to for help and advice."
The decision to allow Rooney on the boys team wasn't without controversy – some of Manney's colleagues and parents of other players expressed concerns about everything from locker room issues to denying a boy an opportunity to play.
But Manney said it wasn't a difficult decision for him at all. He had been watching Rooney play since she was 10 years old and said she was an elite goalie from a young age.
"She showed up to practice every day, and when she walked through the arena doors she became a different person. She was locked in on improving," he said. "She was incredibly focused on getting better each and every day."
He describes Rooney as polite, generous and a great role model, and said he is incredibly proud of her success.
"She earned it," he said. "Nobody gave it to her, that's for sure."
Her win has created a lot of excitement at the school, he said, but he won't know until the fall if that excitement translates into an increased interest in girls hockey. But parents shouldn't worry that their daughters will have to play on boys teams to be successful, he said.
"Maddie's goal was always to be the best she could be," he said. "But girls hockey has come a long way since she was a 10-year-old, so I don't think her path is the path that younger girls will have to take now."
After Rooney graduated from Andover, she went on to play hockey for the University of Minnesota Duluth, and as one of the top three goalies in the country was invited to play on the U.S. women's national team her sophomore year. That team went on to win gold at the world championships in 2017, earning Rooney a chance to try out for the Olympic team last May. She said she was "overjoyed" to make it on to the Olympic team, which required her to move to Florida for seven months prior to competing in South Korea.
At 20 years old, Rooney was the second youngest person on the team. She said she will definitely try out for the next Olympics.
"But there's always someone wanting to take your spot, so I have to earn it every day," she said.
Manney believes that if she maintains her focus, there are definitely more Olympics in her future.
"I've noticed a big change in her. As focused as she was before the Olympics, she's ten times more focused now. She may be 20 years old, but she carries the maturity of someone far older," he said. "Going into the next Olympics, she'll be the face of women's hockey, not just here but across the world. And they'll show her making that save to win the shootout against Canada thousands of times on television."
When asked where she keeps her gold medal, Rooney demures.
"I need it a lot for different appearances, so I keep it close by," she said. "We have a really nice case for it, and eventually I'll put it away somewhere safe."
Rooney is currently studying business marketing with an emphasis on sports marketing, an interest that was sparked by a marketing class she took at Andover High School. She said she hopes to work for a professional sports team someday, and to continue to play hockey competitively for as long as she can. She also coaches various youth teams in the summer and offers goalie instructing for players ages 6 to 16 years.
But her connection to Andover remains strong: She said she plans to stay actively involved with the high school girls hockey program and help out whenever she can, including at summer camps this year. She said she's extremely grateful for the support she's received from her hometown.
"If I tried to name everyone at Andover who influenced me I'd be here a while," she said. "I would just like to thank the whole staff there, especially during this past year. So many teachers reached out to me and were supportive of me, and it just meant a lot and helped me while I was over in Korea. Just to know the city of Andover and my high school were behind me meant a lot to me."