Return to Headlines
2022-23 Above & Beyond Awards recipient: Bill Underwood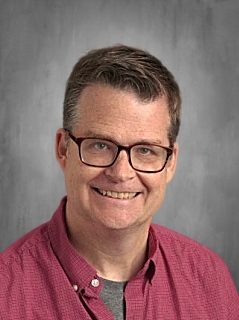 "Within his position, Bill puts in 110% to ensure that our staff is fully supported, brainstorms new methods, and collaborates with many staff to ensure that technology is streamlined to spend more time with students." - Annette Ziegler, Anoka-Hennepin director of elementary schools.
Bill Underwood, a teaching and learning specialist working in special education technology, has been recognized as a 2022-23 Above & Beyond Awards recipient. For the last year, Underwood has led a migration to a new software solution for student data within special education. His extensive preparatory work, training sessions and support after implementation has led to a smooth transition for staff.
"This year has been the most challenging and rewarding year in my career," Underwood said. "The transition to the new software has encouraged many discussions on how we track and monitor student needs…which allows educators to do the vital work they do with our students."
Underwood had a goal to make the new process more efficient for staff so they could focus on teaching. He met with key groups to identify all the district's priorities in regard to documenting students' achievement and needs and then communicated those ideas to the software company to come up with the final solution.
"While the District officially changed over in July, Bill has been working diligently prior to that, and every day since to help facilitate training, create websites, FAQs, step-by-step directions, troubleshoot, improve and improvise," said Leonie Giles, an Anoka-Hennepin staff member.
"He tailored instruction to our needs and it was clear that he advocated for us, the end users," said Jill Prickett, an Anoka-Hennepin staff member.
Underwood has worked for Anoka-Hennepin Schools for 24 years. Prior to his current role, he served as a special education teacher at Eisenhower Elementary School from 1998-2006.
"Ever since I was a camp counselor, I have always had a passion for helping kids achieve things they never thought they could," Underwood said. "I hope that in my current position, I am able to help staff move quickly and accurately through their documentation of students' needs so they have the information and time to help kids achieve their highest potential."
The 2023 Above & Beyond Awards ceremony to honor Underwood and 12 other exceptional employees took place March 29 at the Educational Service Center (ESC).
Watch Bill's video profile.