Return to Headlines
Nita Kumar, Anoka-Hennepin's mental health specialist, earns state award
(11/08/19) Dr. Nita Kumar, Anoka-Hennepin's mental health consultant, was recently named the National Alliance of Mental Illness (NAMI) Minnesota Professional of the Year. Kumar was recognized at the NAMI Minnesota conference on Nov. 2 in St. Paul.

The award recognizes a professional or staff person who provides high quality services, exemplifies best practices and demonstrates commitment to and leadership in the field of mental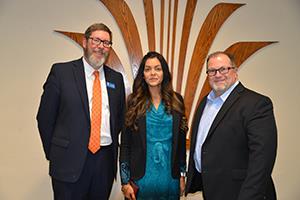 health.

Kumar, who has worked in the district since 2012, has over 20 years of experience working with at-risk youth.

"Since starting her role at Anoka-Hennepin, Kumar has leveraged her years of experience with health plans and her own experience as a school-based therapist, to effectively initiate and grow the district's school-based mental health program," said Eric Melbye, associate superintendent for middle schools and student services. "Dr. Kumar has done incredible work for our district's mental health program and she is very deserving of this award."

Kumar was hired to create, implement, and direct the district's mental health program. Through her work, School Board support, and community support, resources are in place to mitigate the impact of mental health issues on student learning and well-being.

The district currently has full-time, embedded mental health professionals in all 42 schools. Anoka-Hennepin also offers early childhood therapy services, mental health screening, mental health therapy intern model, capacity building with staff, and extensive community and government engagement.

"I am grateful to work for a system that has made a strong commitment to school-based mental health services," Kumar said. "I would be remiss if I did not acknowledge the many stakeholder groups in Anoka-Hennepin who helped make this happen. The School Board, administrators, classroom teachers, support staff, students, and the community have been receptive to recommendations and supportive of program implementation. Collectively, I believe, we created this system."

Sue Abderholden, executive director of NAMI, lauded Kumar for her incredible work for encouraging early identification and treatment of children struggling with mental health. "This is an award that is truly deserved," Abderholden said.

Kumar was recognized at the Oct. 28 Anoka-Hennepin School Board meeting.