Return to Headlines
District students and staff lend a helping hand in a time of need
(04/07/2020) During the COVID-19 pandemic, Anoka-Hennepin students and staff are coming together to create and assemble personal protective equipment for local healthcare workers.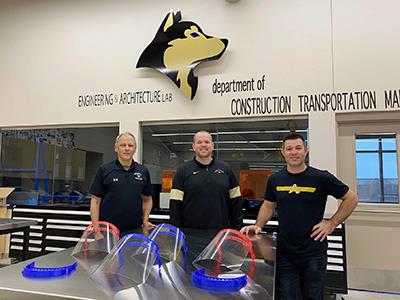 Dave Paddock, a technology education teacher at Andover High School (AndHS), saw a need and got right to work creating headbands and face shields.

"After hearing from multiple sources about shortages, or anticipated shortages of personal protective equipment, we (the AndHS technology teachers) decided we wanted to be involved," Paddock said.

With the help of teachers across the state, who are members of the Minnesota Technology and Engineering Educators Association (MTEEA), Paddock and the technology team at AndHS, including Mike Hecker and Frank Kratochvill, got their hands on a digital file for the 3-D printer and started creating headbands for face shields. View photos of the headbands and face shields being created at Andover High School.

"As technology teachers, we are constantly teaching students how to design, engineer, make, and construct products," Paddock said. "One of the most important things we can do as teachers and adults is to model how to do something for our students. This is a great opportunity to be involved in a project where there is a need and also provide students with an example of how to solve a problem."

When the project began, Paddock said they were able to create about six face shields per day, but after some research and collaboration with other MTEEA members, production has jumped up to 40 per day.

Before ramping up production, Paddock is getting valuable feedback from his brother Dr. Michael Paddock, a 2000 Anoka High School graduate, who specializes in emergency medicine at Regions Hospital in St. Paul.

"Michael was able to put 25 of our face shields into circulation last week and provided us with constructive feedback that led us back to the drawing board," Paddock said. "The original design had too many spots that needed to be sanitized and our new design is easier to wipe down, and slightly smaller, which allows us to produce more at a time."

Paddock said that AndHS students are currently working from home on designs looking to either improve the current design or create a completely new design.

Visit ahschools.us/covid-19 for more information about the district's overall COVID-19 response, and more specifically, its distance learning plan, in-school child care for emergency workers, student meals, and much more.