Return to Headlines
CRHS junior Natalie Berg, campaigns for children's literacy and the title of Miss America Teen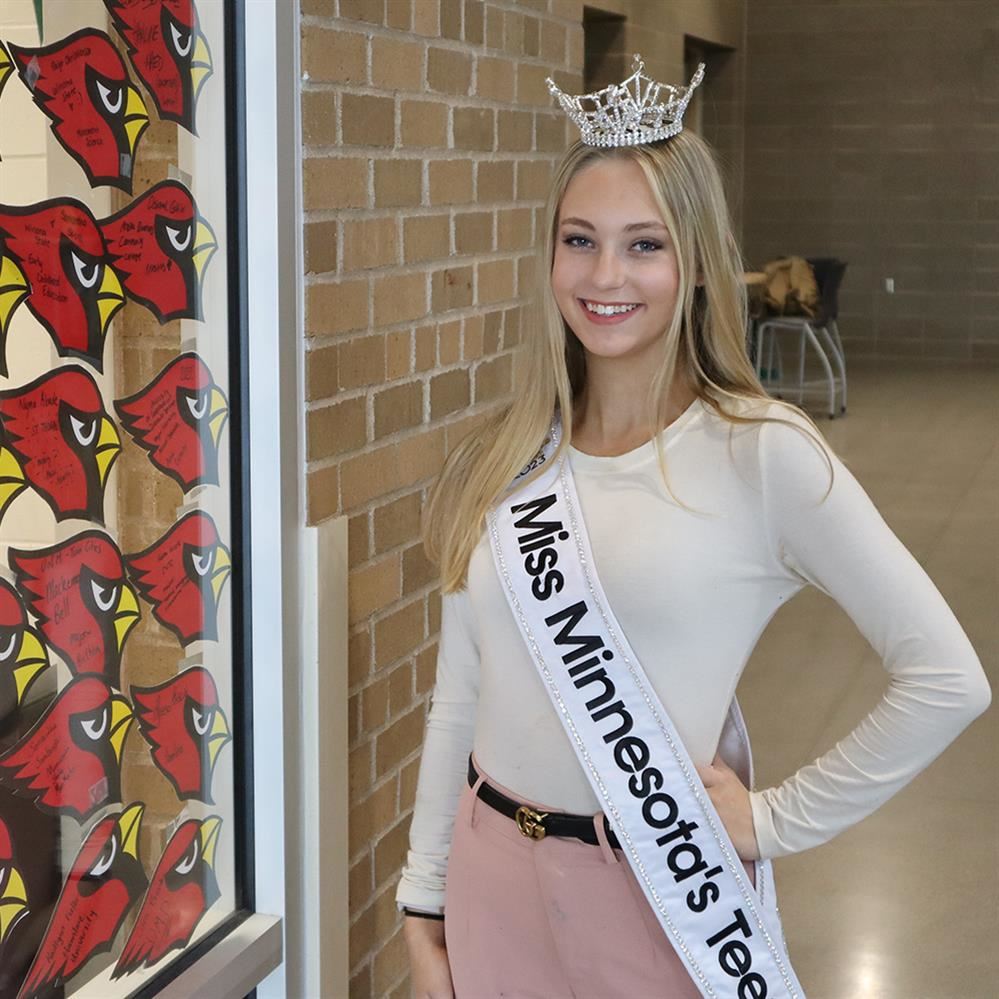 (05/10/2023) Natalie Berg, a junior at Coon Rapids High School - Center for Biomedical Sciences and Engineering (CRHS), has been on the go since she was five years old. She began competing in princess pageants and now she has her sights set on becoming Miss America Teen.
In March of 2023, Berg earned the title of Miss Minnesota Teen and will spend the next eight months building her resume for the ultimate title at the Miss America Teen pageant in January of 2024, where she will be one of 50 contestants for the honor.
As she builds her campaign, Berg shared that her real passion is for promoting children's literacy. She has collected and donated over 1,500 books and has partnered with Books for Better Minnesota with the mission of getting as many books in the hands of children as possible.
"Growing up, I really struggled with reading," Berg said. "I hated reading. I didn't have the resources that could have helped me to become a better reader. I really want to help build children's literacy at a young age."
Berg started a book buddy program at Family of Christ preschool which gives classrooms the opportunity to give kids books to take home along with comprehension worksheets, and of course, a stuffed animal as a reading buddy.
Berg started competing in the princess program at five years old, and fell in love with the competition and the camaraderie with those competing for the title of Miss Minnesota.
"I was able to connect with misses that were competing for the title of Miss Minnesota and Miss America, and being able to have that mentorship and someone to look up to that's a good role model, I just loved it," Berg said. "Ever since then, I wanted to be one of them, and now I am!"
Not only is she busy campaigning for her ultimate goal, Berg is also an accomplished Irish dancer, having performed all over the U.S. and Ireland over the last 10 years. She also spends the little free time that she has doing flying trapeze, trick horseback riding and wake surfing.
At CRHS, Berg is a member of the golf team and serves as a vice president of the DECA program. She is also very involved in Girl Scouts, where she was recently named a 2023 Changemaker honoree. Berg credits her mother for helping keep everything straight.
When Berg was nine years old, she appeared on the "Weekend Today" show to share a recipe after winning a national Girl Scout contest, using Samoas, her favorite cookie, to make a pie.
In 2019, Berg received a National Medal of Honor and a Citizen Award for her life-saving efforts. Her dad was involved in an ATV accident at their home and Berg was quick to call for help and provide first aid that her family was told helped save her father's life.
To learn more about Berg and her run for Miss America Teen 2024, visit missminnesota.org. You can also visit her Facebook and Instagram pages to follow her journey.
"I am excited that I am able to promote Minnesota at the Miss America level and who knows, maybe I'll win Miss America Teen," Berg said.