Return to Headlines
Two Coon Rapids High School seniors earn summer internships with Medtronic
(04/12/19) Following graduation in June, two Coon Rapids High School - Center for Biomedical Sciences and Engineering (CRHS) seniors will gain practical job experience before heading off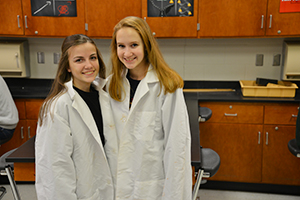 to college.

Mackenzie Nash and Laura Wilson were both selected for Women in Science and Engineering (WISE) internships with Medtronic, the world's largest medical device company.

The CRHS duo were selected for highly sought after positions from a very large and talented applicant pool. The WISE internship program at Medtronic accepts applications from high school seniors and college freshmen. According to CRHS Center for Biomedical Sciences and Engineering curriculum integrator Lana Rice, the program is so limited and application numbers are so high, they could select valedictorians and fill all positions.

"We are incredibly excited for Mackenzie and Laura to have this amazing opportunity with Medtronic," Rice said. "As we have told the students, this is a program in which if they work hard and do their best, it may be an experience that changes their life forever and could open doors to numerous opportunities down the road."

Seniors in the biomedical program at CRHS, Nash and Wilson both have their college plans in place, but both are looking forward to the opportunity to expand and explore before heading off to school.

"I'm very excited," Wilson said. "It was a little scary at first because it is such a big commitment, but this is such a good opportunity, I couldn't pass it up."

"It will be a great opportunity for me to put myself into the field and gain valuable experience in a field I want to work in," Nash said.

Nash will attend the University of Minnesota next fall where she plans to major in biochemistry. Wilson is headed to the University of Wisconsin-River Falls where she will major in biotechnology. Both will familiarize themselves with their areas of study even further prior to class starting next fall.

Nash will work in the area of heart devices and Wilson in radiology and imagery.

"The biomed program [at CRHS] is what got me interested in biochemistry," Nash said. "I took my first biochemistry class freshman year and it has always been fun and interesting to me and I look forward to going to that class."

Nash said she sees herself working in a lab related to biochemistry in the future and she is looking forward to gaining the practice experience the internship will provide her.

"I'm looking forward to making connections in the field, but I also hope to spark my interest in exactly what I'd like to do in the future," Nash said.

In medical imaging, Wilson will gain experience in a field in which she plans to build a future in.

"I've always been interested in radiology and X-ray technology," Wilson said. "After school I was planning on being an X-ray technologist, but now that I will be starting to work with Medtronic, I'm looking forward to seeing what other doors may open."

Wilson also lauded the biomed program at CRHS for preparing her for the future.

"I've been in the program for four years and it has helped me learn how to do things for myself," Wilson said. "Taking college level courses and having that sort of difficulty has prepared me and will help me transition easier to college."

While neither of the two had this in their summer plans, they both are jumping at the opportunity looking forward to the doors that may open.