Return to Headlines
Anoka-Hennepin collects five national awards for excellence in communication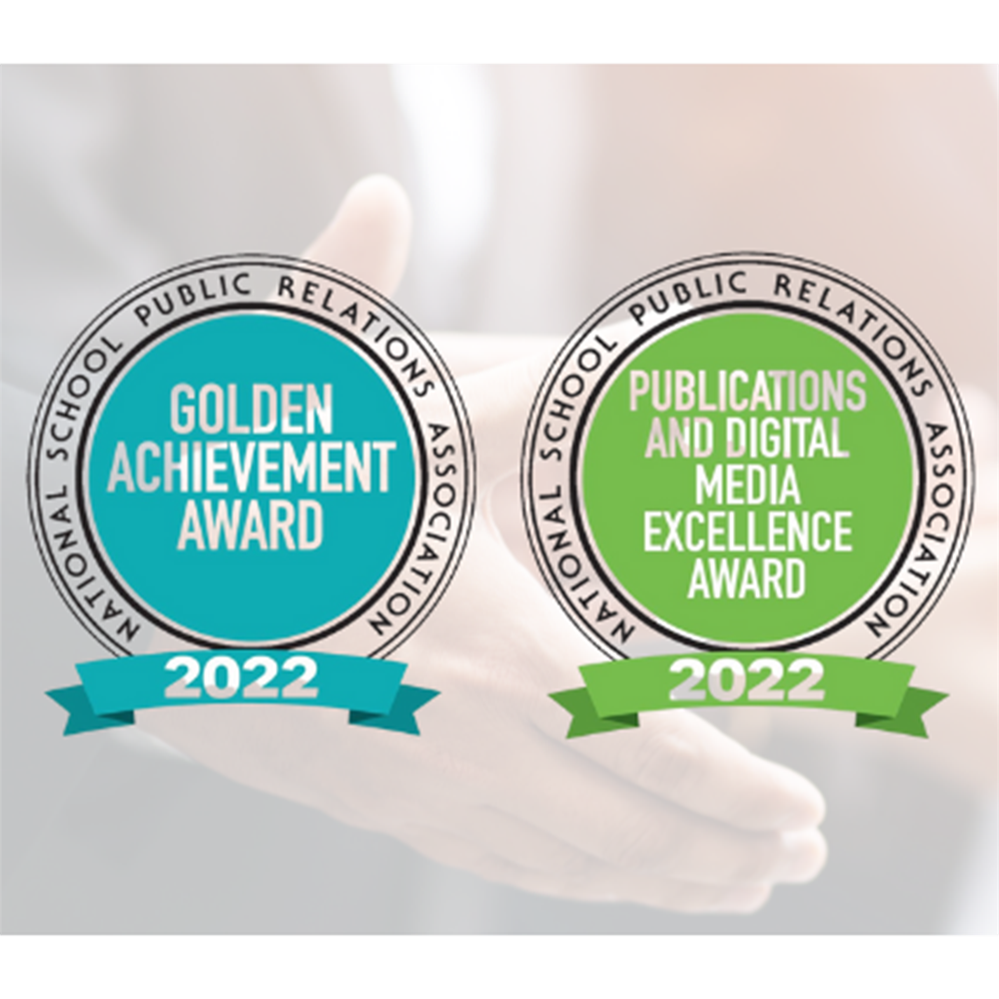 (06/17/2022) Anoka-Hennepin's efforts to inform and engage students, staff and community members has been recognized as some of the nation's best.
The district's communication and public relations team earned five awards from the National School Public Relations Association (NSPRA), which is a professional organization for public and private school districts and post-secondary institutions from around the country.
Anoka-Hennepin was named a 2022 Golden Achievement Award winner for its communication plan and execution of its Referendum 2021 campaign. The Golden Achievement Award recognizes exemplary work in all aspects of school public relations, communication, marketing and engagement.
Anoka-Hennepin also earned three Publications and Digital Media Excellence Awards and one Merit Award for various digital campaigns.
In the Podcasting/Audio category, the district was recognized with an award of excellence for the Parent Engage 360 Podcast. The podcast is produced monthly and aims to provide parents and guardians with knowledge from experts in a variety of topics from both district employees and community resources. You can listen to the podcast on the Podbean or Apple Podcasts apps or on the district website at ahschool.us/parentengage360.
The district also received an award of excellence in the video (produced in-house) category for the 2021 graduation video series. The communication and public relations team recorded, edited and produced five highlight videos of the graduation ceremonies from the five traditional high schools and followed through with a social media plan to distribute the videos on the school and district social media sites. To watch the videos, visit the 2021 Graduation Ceremony playlist on the district YouTube page.
Another award of excellence was earned in the video (produced with outside contractor) was earned for the 2021-22 No Limits - Back to School video. The back to school video featured district staff and students and an original song inspired by the district's tagline "A future without limit." Watch the No Limits: 2021-22 back to school video.
Finally, an award of merit was earned in the same category of video (produced with outside contractor). The 2021 Anoka-Hennepin Kindness Poster Winners video debuted at the Jan. 24 School Board meeting to announce the winners of 2021 Kindness Poster Contest. As a part of October's National Bullying Prevention campaign, the district held its 17th annual kindness poster contest with the theme of "Kindness has No Limits!"
Anoka-Hennepin's five-member communication and public relations team includes Jim Skelly, director; Heather Peters, assistant director; Tim Evans and Dax Larson, communication specialists; and Meghan Gutzwiller, communication assistant.