Return to Headlines
Anoka and Coon Rapids high school DECA chapters recognized
(01/20/2023) The DECA chapters at Anoka (AHS) and Coon Rapids (CRHS) high schools achieved Thrive Level recognition in both the membership campaign and chapter campaign programs. The chapters will be commended at DECA's International Career Development Conference (ICDC) held April 22-25 in Orlando, Fla.
AHS and CRHS were two of about 1,300 chapters internationally to earn recognition through DECA's chapter campaign program.
Each fall, DECA offers four campaigns for chapters to complete as part of their program of leadership for the year. These campaigns are designed to grow membership engagement and build lasting partnerships within the school and local community. DECA chapters that earn Thrive Level recognition will receive a pennant, flag and plaque. Since both chapters earned Thrive Level in both the membership campaign and chapter campaign, they will be able to send up to six DECA members to participate in the Thrive Academy at this year's conference.
Anoka DECA completed the community service campaign and promotional campaign, while Coon Rapids DECA completed all three chapter campaigns (community service, ethical leadership and promotional).
Both chapters participated in the membership campaign which challenged the chapter to recruit 20 professional members, recruit 20 alumni members, or increase student membership by 20 more members from the previous school year. Only 14 Minnesota DECA chapters achieved Thrive Level status this year.
Anoka DECA members who worked on the project include: Megan Day, Pete Gandah, Maria Harry, Aubrey Liabraaten and Riyah Ramlawi.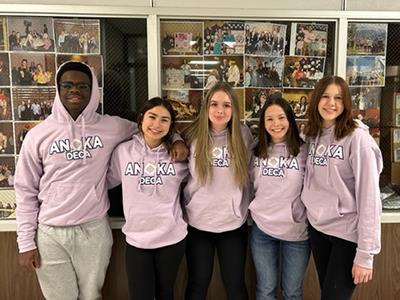 Coon Rapids DECA members who contributed to the THRIVE recognition were: Suikana Bader, Azaria Banks, Lizzy Becker, Natalie Berg, Madi Froslie, Miranda Froslie, Lily Gagnon, Sydney Holloway, Gabby Johnson, Anna Kelley, Kelsey Koehler, Libby Larson, Sam Schulz, Edward Tabla, and the Senior marketing and management internship class.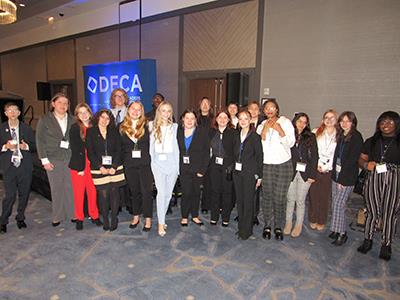 Anoka DECA is advised by Doug Orr and Coon Rapids DECA is led by Blake Bodenburg. Both are award-winning advisors within Minnesota DECA.
As a Career and Technical Student Organization, DECA has had a positive impact on the college and career readiness of youth for over 75 years by providing meaningful connections among the school, community and business partners. DECA's mission is to prepare emerging leaders and entrepreneurs for careers in marketing, finance, hospitality and management in high schools and colleges around the globe. Through DECA's Comprehensive Learning Program, students are engaged in experiential learning methods and authentic activities relating to careers in marketing, entrepreneurship, finance, hospitality and management. DECA's programs are aligned.