Return to Headlines
Jessica Lipa, Anoka-Hennepin's director of career and technical education, earns state award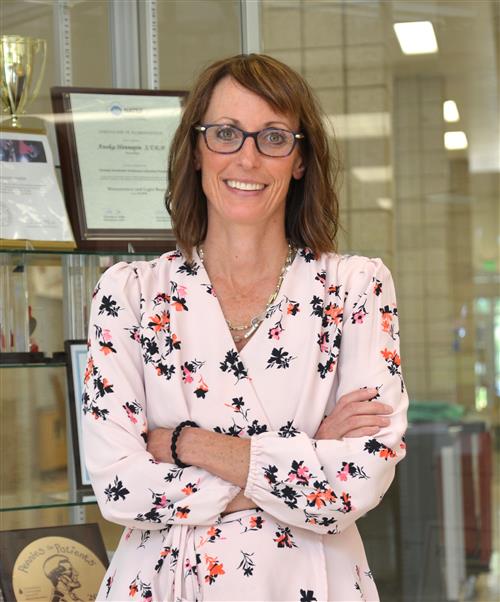 (10/11/19) Jessica Lipa loves her job, which works out because she's good at it. But winning awards for doing that job — well that makes her a little uncomfortable.
"We have an incredible group of talented teachers here in Anoka-Hennepin," she said. "So to earn an award — it's just surprising."
Lipa is director of Anoka-Hennepin's Secondary Technical Education Program (STEP) as well as career and technical education districtwide. And during a luncheon on Sept. 27, she'll be accepting the 2019 Professional Support: Administration Recognition award from the Minnesota Technology and Engineering Educators Association (MTEEA). The award recognizes an administrator who demonstrates significant commitment and support for technology education.
"It's such a surprise, honestly," Lipa said. "I'm super honored — I'm excited, but here at STEP and around the district, I'm not the one doing the work. I might be guiding our career and technical education work, but the teachers are doing the heavy lifting. They deserve recognition for their hard work, too."
STEP bills itself as a high school in a college setting where students in grades 11 and 12 can explore hands-on technical and manufacturing careers while earning both high school and college credit. It's located on the Anoka Technical College campus, and shares facilities, equipment, and supplies with the college. The school has 700-800 students each trimester, who come from all five of Anoka-Hennepin's five traditional high schools (Andover, Anoka, Blaine, Champlin Park, and Coon Rapids). Most are part-time students, which means they take core classes at their regular high school, and then come to STEP at some point during the day for technical and manufacturing studies.
Over the last few years, the STEP program has garnered a lot of national attention for its career and technical education work. Both U.S. Sen. Tina Smith (D-Minn.) and U.S. Deputy Secretary of Education Dr. Mick Zais visited the campus in 2018 during separate events, intrigued by what makes the program successful and looking for ways to support and replicate it around the state and nationally.
"I'm honored to get an award like this, but this group of tech-ed teachers — they're super talented," Lipa said. "My job is to be a support system for them. They're the rock stars."
MTEEA as a state organization is dedicated to providing technology and engineering educators with professional development, quality resources and best practices.