Return to Headlines
District high school construction programs participate in statewide playhouse competition
(11/22/19) Tim Nestrud has a simple approach to helping address the shortage of skilled construction laborers facing the nation: get kids building stuff.

Over this past summer, Nestrud, who is a construction careers teacher at Anoka-Hennepin's Secondary Technical Education Program (STEP), hatched a plan to do just that. He developed a competition of sorts — schools with technical education programs across the state would build playhouses for children, and the final products would be judged and then sold.

"We're really hurting for kids who want to get into the trades," he said. "I figured a competition of sorts might generate some interest."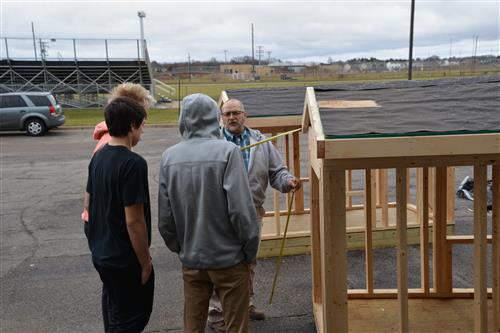 The idea quickly gained some traction elsewhere, with the Minneapolis Home and Garden Show joining the fray. The February event is now going to host the judging of the playhouses, as well as a silent auction where visitors of the convention can bid on the houses, Nestrud said. What's more — while schools will first recoup the cost of any materials that were purchased to build the playhouses, all remaining proceeds generated in the auctions will go to Habitat for Humanity.

"It's exciting," Nestrud said.

All told, 11 schools across the state are participating, Nestrud said, including six from Anoka-Hennepin — the district's five traditional high schools plus STEP. Also participating are schools from all over the state, including metro-area schools like Apple Valley, and outstate schools like Osakis.

At Anoka High School (AHS), they're actually building two playhouses. Dave Grider, a technical education and construction teacher at AHS, said he wanted to make two playhouses to showcase different construction methods — one will be outfitted with knotty pine siding, and the other with plywood. See photos of playhouses and construction.

"This is a good idea — a good project," Grider said. "Kids are learning and they're engaged."

Nestrud said the playhouses are small — just a four-foot by eight-foot footprint, and they're to be made for small children. Schools are to keep a record of costs and blueprints, and that will be factored into the judging process, along with workmanship and design. And while schools are responsible for getting the final playhouses to the Home and Garden Show in February, the convention has lined up transportation for those who win the silent auctions.

"I've seen a couple of the ones our schools are building (in Anoka-Hennepin) — and they're pretty cool," he said. "And that's the thing — each school and each playhouse will be different. Some may be traditional, others whimsical. So it's going to be fun to see them all on display."

The Minneapolis Home and Garden Show will go from Feb. 26 through March 1 at the Minneapolis Convention Center.